This was not your typical gift from the Lawrence Memorial Hospital Gift Shop: a $50,000 check.
During a surprise presentation Monday, volunteers who help staff the gift shop donated a $50,000 check to the hospital's campaign to raise funds for a $40 million expansion. The donation, the result of sales at the gift shop, was in addition to $51,380 that 94 volunteers donated from their own pockets.
"Based on the amount of time and energy you already give to LMH, I felt guilty about asking you to give any money at all," Kathy Clausing, the hospital's chief development officer who is overseeing the fundraising campaign, told volunteers gathered for the event.
"And then you do this. It feels real good to see people give like this because this campaign is really, really important to our community."
The more than $100,000 in donations raises the campaign's total to $6.45 million. Hospital leaders hope to raise $8 million by the early part of next year.
"We've always known that would be an outstanding goal in our community where so many other worthy projects are going on, but we believe we'll get there," said Gene Meyer, president and CEO of LMH.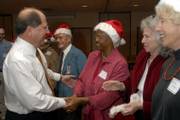 The gift shop was able to do its part after new managers took over the operation six months ago. Sales have increased by about 15 percent during that time.
"We just try to have lots of unique items," said Ann Marie Boncella, an assistant manager with the gift shop. "We try to have more than your typical 'get-well' gifts. We try to have some items that people could take home and decorate their homes with."
The campaign is helping fund a $40 million expansion that will include a new emergency room, new surgery suites, additional birthing rooms, a new intensive care unit and the conversion of the hospital's existing semiprivate rooms into private rooms.
Work is under way on building 20 patient rooms on the west side of the hospital. During the next several months, work will shift to the east side of the hospital for a new three-story tower.
Meyer said Monday that the goal is to have the hospital's emergency room - which will be on the bottom floor of the tower - open by November 2007.
Copyright 2018 The Lawrence Journal-World. All rights reserved. This material may not be published, broadcast, rewritten or redistributed. We strive to uphold our values for every story published.