The holiday season had its unofficial kickoff Sunday, but it didn't have the kick some would have liked.
The 30th annual Holiday Bazaar, a holiday-tinged crafts fair, drew more than 130 vendors Sunday to the Community Building, but both organizers and merchants said it didn't bring the kind of crowed they hoped.
"This was about the worst we've had," Independence, Mo., merchant George Evinger said.
The event, organized for the last five years by the Lawrence Parks and Recreation Department, featured merchants from across the Midwest, along with local bands and choir bell-ringers pumping out holiday tunes all afternoon.
On a surprisingly pleasant mid-November day, organizers said most expected a nice turnout from the community.
All of the vendor spaces sold out more than a month ago.
But for whatever reason, the big crowds didn't pan out Sunday.
"Traffic wasn't as good as it was last year," said Duane Peterson, special events supervisor for Lawrence Parks and Recreation.
Peterson said crowds last year topped 4,000, but this year he estimated the number of people looking for holiday-themed crafts hovered around 3,000, if that.
"We had a steady flow for a while," Peterson said. But in the end, the numbers didn't compare with years past.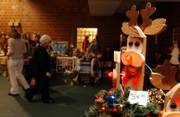 The lack of foot traffic could have been attributed to a number of things, he said. The Chiefs game was on, at Arrowhead Stadium. Plus, Peterson said many local crafts shows have suffered from low turnout, likely because of the economy.
But Eudora jewelry maker Kristi Mossberg said this was as bad as she's seen.
"The sad thing was, we did better at the Eudora Fest," Mossberg said as she packed up some snow globes she made with her mother, Sandy Clark.
Although this was both Clark and Mossberg's first year selling goods at the bazaar, Clark said she'd attended in years past.
Back then, the craft fair was packed.
"It used to be standing-room only," she said.
As George Evinger and his niece, Laura Hosek, packed their shelves of handcrafted bowls and sculptures, Hosek offered another answer for the slow business.
"It's Wal-Mart," she said.
Big-box retailers can sell good-looking plates and bowls just the same as smaller artists, but at drastically lower prices.
When people come to craft shows, they often have a difficult time justifying spending $40 on pottery when they could go to a national retailer and spend less, Hosek said.
About half an hour before the bazaar ended, Hosek already had most of her pottery wrapped in newspaper and packed away in boxes.
She quickly wrapped a small brown bowl, its rough exterior contrasted by its smooth, polished inside.
Only her uncle stood by to see it.
Copyright 2018 The Lawrence Journal-World. All rights reserved. This material may not be published, broadcast, rewritten or redistributed. We strive to uphold our values for every story published.