Sunflower School kindergarten teacher Nancy Scott isn't comfortable being in the spotlight.
But this month when she was named Sunflower Bank's Teacher of the Month, she was humbled.
"I teach kindergarten just in the morning: four hours a day, five days a week, 21 kindergartners," Scott said.
It adds up to time that Scott truly loves.
"You know, they're great fun. They really are," said Scott, who has been teaching in Lawrence schools for 10 years. "There are days when you don't want to go to work, and then you come and you see their little faces walk in and it always makes me glad to be here."
One student in particular sticks out in Scott's mind: Christian Faulkner, a kindergartner who was in her class last year at Sunflower, 2521 Inverness Drive. Christian hadn't been feeling well for months when, the day after Thanksgiving 2005, "They did X-rays and found the cancer, a tumor in his chest, and it went from shoulder to shoulder and from midchest up."
While Christian spent months in the hospital and recovering at home, Scott made sure he was involved in school.
"I did try to go to Children's Mercy (Hospital) whenever I could and then go by the house and visit with the family," Scott said. "He was very, very weak most of the time and not able to do a lot. But I just continued to take papers, anything that we worked on so that he could feel like he was still a part of a normal routine."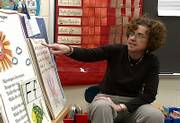 Scott remains close with Christian's family. And he's back in her classroom this year, feeling better than ever.
"She's gone far beyond the duty of a teacher," said Amanda Faulkner, Christian's mother. "We're probably going to cry next year when he has to get a new teacher."
Faulkner appreciated Scott's efforts to ensure that Christian remained part of the class.
"She cried right there along with us," Faulkner said. "She put her arms around us, and she's just gone out of her way to include him in school, making sure he's invited to little parties, Valentine's Day parties, things like that."
Scott said working with children reminds her of what's really important in life. But her experience with Christian has made those thoughts even more poignant.
"You know, day-by-day, you just never know," she said.
Christian's family nominated Scott for the Sunflower Bank teacher award.
Copyright 2018 The Lawrence Journal-World. All rights reserved. This material may not be published, broadcast, rewritten or redistributed. We strive to uphold our values for every story published.