Molten cheddar oozing over a grilled burger, creamy brie on a tray filled with ripe strawberries, tangy crumbles of Roquefort nestled next to bacon bits on a Cobb salad - if your mouth is watering, you're a cheesehead, and there's no better way to indulge your habit than a cheese-tasting party.
If you're shy about cooking, this is the best kind of party for you. It's informal, and there's really nothing to make or bake. Invite guests, put on some mood music, set out cheeses and wines to match and you're ready to rock.
The art of this party is in choosing what you want to indulge in. For some expert advice on the topic, I called Barrie Lynn, the Cheese Impresario and columnist for the Beverly Hills (Calif.) Times.
She immediately revealed all about the night cheese changed her life: "I went to a fundraiser, and it was an artisanal cheese and wine pairing with all American wines and cheeses. I don't know what happened. Did the microbes take over and make me their slave?"
She tasted cheeses so breathtaking they sent her into a swoon. "I literally sat down and went, 'Oh my God, this is so thrilling!"'
If you love cheese and want to turn your friends on to its pleasures, read on for some insider advice on how to create a big bash or an intimate evening centered around one of the world's most noble foods.
Q: A lot of people are afraid of cheese - "Eek! Too fattening." What do you tell them?
A: It's simple. When you're eating an artisanal product, it's very flavorful, rather than the factory products that you have to eat so much to be satisfied. I keep it to 2 ounces a person. Because it has not been cooked to death, all the "good bugs" are still alive. They digest much easier and don't stick to you as much.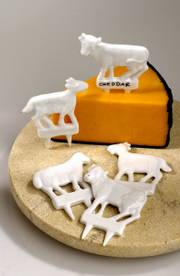 Q: How many cheeses should you serve?
A: I would do three to five - not much more or the palate becomes confused.
Q: How do I choose contrasting cheeses for a tasting?
A: The classic is to give a taste of different milks - lighter goat's milk cheeses to more robust cow's milk cheeses, just like you would wines. You'd start with a sauvignon blanc, on to a chardonnay and then pinot noir or cabernet. Take people through the flavors with the lightest goat cheeses first. Then end with the strongest, like a rich cheddar or a big blue.
Q: Bread or crackers?
A: I always have crackers and French baguettes, and darker breads with walnuts are nice. Dried fruits are great. With gorgeous wines from Austria and Germany, I picked an Amadeus from Austria and a Northern Italian cheese from the same terroir. I put dried apples and Bing cherries on the plate, and people were amazed.
Q: Is the approach different for a party for 20?
A: No. I did a party for 250 and individually cut cheese for every person there. Even the children had a blast. I taught them how to think about it, look at it, smell it. Eighty percent of taste is smell, and I teach the adults the same thing. I talk to everybody, and I bring a cheese sheet that tells about all the cheeses. You can do that at home. Look them up on the Internet and make your own little sheet with a date on it that says, "Joe's Birthday Party" or whatever the occasion. Roll it up like a scroll, and tie it with a silk ribbon. It makes a perfect party favor.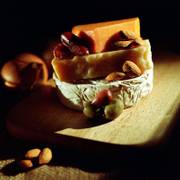 Q: What do I serve them on?
A: I like to use a beautiful matching cheese service. I have one marble and one metal. They need to be sturdy when you're cutting; you don't want the plate to slip. I like a weighty plate.
Q: How long should cheeses be out of the fridge before serving?
A: Leave them out for an hour or an hour and a half, but less when it's hot. I put a tea towel over them so they don't dry out.
Q: It sounds so easy. Is wine and cheese all I really need for the party? What about serving fondue or other cheese dishes?
A: I'll make dips like softer goat cheeses mixed with red pepper or garlic, but I don't serve mac and cheese or fondue - it's too much. Do fondue by itself.
Q: Steer us to a couple of amazing cheeses.
A: Cocoa Cardona drives me crazy. It's from the Carr Valley Cheese Company in Wisconsin, and it's goat cheese aged in cocoa powder: a beautiful, light beige color, and the flavor is unbelievable.
Or try Paula Lambert's burrata (Mozzarella Company, Dallas). Put it in a beautiful bowl or plate, drizzle honey over it and a sprinkling of finely ground coffee. Spoon in and take a bite. It sounds weird, but it is delicious. I like to serve it with coffee and that keeps things simple, because I like to spend the time I save with my guests.
Copyright 2017 The Lawrence Journal-World. All rights reserved. This material may not be published, broadcast, rewritten or redistributed. We strive to uphold our values for every story published.