Take an antibiotic. Modify it in a simple, novel way and you end up with a promising compound for fighting cancer.
That's what a Kansas University-led research team has done in transforming the antibiotic Novobiocin into an anti-cancer compound. The team's work will be reported in this month's issue of the Journal of the American Chemical Society.
"We have quite a potent anti-cancer drug," said Joe Burlison, a KU postdoctoral researcher.
For several years, researchers have known Novobiocin - an antibiotic used in Europe for treatment of bacterial infections - inhibits Hsp90, a protein necessary for all human cells and particularly important for the growth of cancer cells.
At KU, where researchers have been building a library of Novobiocin derivatives, scientists were able to modify the drug and create two derivatives.
These new compounds no longer work like an antibiotic but instead target Hsp90, blocking the protein that cancer cells need to proliferate.
"When you inhibit Hsp90, you have a catastrophic effect on the growth of cancer cells," said Brian Blagg, assistant professor of medicinal chemistry.
And it looks promising because it kills 200 cancer cells for every normal cell, compared with current therapies that on average kill about 10 cancer cells per normal cell.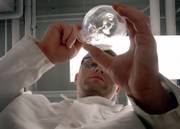 "You get high selectivity for cancer versus normal cells, which is great because it diminishes potential side effects," Blagg said.
In essence, the antibiotic has been transformed into an anti-cancer compound that researchers say may hold promise for the treatment of many types of cancers.
"Experimentally, it's very exciting and it looks promising," said Len Neckers, a senior investigator with the National Cancer Institute's Center for Cancer Research, who collaborated on the research.
In addition to Burlison, Blagg and researchers at the National Cancer Institute, the research involved the John Innes Center in the United Kingdom.
And the work continues.
"We're trying to make it even better," Burlison said. "We're trying to determine what is needed on this molecule, what's important, what's not, what can we change to make it even more selective.
"There are a lot of similarities between cancer cells and normal cells. We want to specifically kill the cancer cells and leave the normal ones alone."
Copyright 2018 The Lawrence Journal-World. All rights reserved. This material may not be published, broadcast, rewritten or redistributed. We strive to uphold our values for every story published.