Lawrence's largest private-sector employer is about to get even more employees.
Pearson Government Solutions announced Thursday that it had secured a $440 million contract to handle all calls to 1-800-MEDICARE, a help line for elderly consumers of the federal health coverage program.
The contract means that Pearson no longer will share such responsibilities with another private contractor, and therefore will send more than twice as many inquiries - for a total of at least 20 million calls expected in 2007 - to Pearson's six centers for the program, including one in Lawrence at the East Hills Business Park.
Pearson now has 315 employees in Lawrence who work on the Medicare help line, a number expected to swell by "several hundred" by the end of March, said Eileen Rivera, a Pearson spokeswoman. All will be full-time positions.
"Lawrence remains a critical location for Pearson Government Solutions and our growing work with the Centers for Medicare and Medicaid Services," Rivera said. "We are very grateful to the Lawrence community for their continuing support and impressive work force, who have allowed us to provide excellent service to millions of Medicare beneficiaries across the country."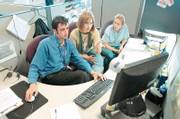 The help line is open 24 hours a day, and operators provide general information and can send out printed materials regarding the Medicare program, its options and other matters. The latest contract also means that Pearson employees will be managing claims calls and fielding written correspondence, something absent from the previous contract.
Pearson is "proud" to be Medicare's sole provider of contact center services, said Mac Curtis, the company's president and chief executive officer.
"We look forward to continuing our partnership," he said.
Pearson handles more than a dozen such government contracts at its Lawrence center. Employees take inquiries for the Equal Employment Opportunity Commission, the Immigration and Naturalization Service and other departments and agencies.
The Medicare contract, good for 2 1/2 years, is the first of what the company expects to be $10 billion in contracts during the next decade as part of a special federal program that allows Pearson and four other qualified companies to seek contracts for health-related services.
During the past four years Pearson has helped the federal government implement a Prescription Drug Discount Card program, and, most recently, prescription drug coverage through Medicare Part D, said Mary Agnes Laureno, a director for information services at the Department of Health and Human Services.
"We are confident they will continue to deliver world-class customer service assistance," Laureno said.
Pearson Government Solutions, based in Arlington, Va., has more than 5,500 employees worldwide. It is a business unit of Pearson Plc, a London-based media conglomerate that includes the Financial Times Group and the Penguin Group.
Copyright 2018 The Lawrence Journal-World. All rights reserved. This material may not be published, broadcast, rewritten or redistributed. We strive to uphold our values for every story published.