Delores Needham's old health insurance just isn't cutting it anymore.
Right now, she pays about $180 a month in premiums for her monthly regimen of $1,646 in retail prescription drugs.
"My Social Security is only $800 and something a month. I just can't afford my medicine," she said.
So Needham spent Wednesday crunching numbers of some new - hopefully less expensive - prescription drug plans at Lawrence Senior Center, 745 Vt.
And Needham wasn't alone. She joined millions of seniors who are hunting for new ways to pay for pricey prescriptions on Wednesday, the first day of enrollment for this year's version of Medicare Part D, the federal prescription drug assistance plan.
The enrollment period lasts until Dec. 31 - which is only six weeks to find and enroll in a plan, compared with six months last year. Federal officials recommend choosing a plan by Dec. 8 to avoid delays in coverage.
The rush to enroll or find a new plan kept state officials busy.
"The hot line's ringing, so people are calling," said Suzi Lenker, education and outreach coordinator for Senior Health Insurance Counseling of Kansas. "Our coordinators are taking appointments with folks."
Many seniors said they were struggling with deciding how high of a premium they could pay each month and avoid the program's coverage gap. The gap occurs when seniors have reached a certain dollar amount of coverage and then have to pay full prices for their drugs until reaching another dollar amount.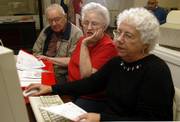 This year, most Medicare Part D monthly premiums cost more - often because the plans cover a wider variety of name brand and generic drugs, and because some plans don't have a coverage gap.
Among this year's changes:
¢ A dozen more prescription drug plans are offered, many with varying degrees of coverage. There are 53 plans available compared with 41 last year.
¢ Maximum deductibles have increased, from $250 last year to $265.
¢ Many premiums have increased. For example, the Humana PDP Complete plan - which requires no deductible - will cost $69.50 a month this year, compared with $54.20 a month last year.
Earlier this year, everyone enrolled in the plan received a letter in the mail explaining whether and how their plans would change.
Medicare Part D participants who enrolled last year don't need to re-enroll this year unless they want to change their plans.
Lenker said she hasn't yet heard any complaints about the higher costs.
Federal officials said the increased monthly payments would provide more coverage for enrollees. The more expensive plans cover more drugs and help reduce the coverage gap.
Last year, enrollees whose needs exceeded $2,250 worth of drugs then had to pay full price until their medications totaled $5,100. Once they reached $5,100, the plans picked up a majority of the costs.
But in 2007, that gap gets wider. Enrollees will pick up the full price of drugs once they exceed $2,400 and will continue to pay the full price until spending $5,451.
Because of those changes, maximum out-of-pocket expenses increased from $3,600 to $3,850 for 2007.
To eliminate the gap, enrollees can find plans with higher premiums that offer coverage throughout.
Or, they can do what Donna Farrier plans to do: use Wal-Mart pharmacies.
While waiting for help at the Lawrence Senior Center, Farrier said she would buy a few of her monthly prescription drugs with Wal-Mart's $4 plan to try to avoid hitting the coverage gap threshold.
"As many as I can get, I'll do that," Farrier said.
As for signing up for a plan, Farrier said the process became so muddled last year and her access to her prescriptions changed so much, she just dropped out. Now, she hoped to find something that fits her needs.
"I just need something that I don't have to worry about."
So far, only 6,889 Medicare-eligible folks in Douglas County have enrolled in a plan, compared with about 9,600 who qualify, according to Julie Brookhart, spokeswoman for Centers for Medicare and Medicaid Services.
Medicare Part D
More about Medicare Part D
Copyright 2018 The Lawrence Journal-World. All rights reserved. This material may not be published, broadcast, rewritten or redistributed. We strive to uphold our values for every story published.