Manhattan — A day after announcing he would step aside, Defense Secretary Donald H. Rumsfeld gave a lesson Thursday in history and keeping the war in Iraq in context.
After six years as the face of the Bush administration's policies on Iraq and terrorism, Rumsfeld is stepping down. He acknowledged to 4,500 students, faculty and soldiers at Kansas State University on Thursday that the fight in Iraq has not gone as planned.
"I will say this: It is very clear that the major combat operations were an enormous success," he said, of the March 2003 invasion in which Baghdad fell within weeks. "It's clear that in Phase 2 of this, it has not been going well enough or fast enough."
Since the U.S. overthrow of Saddam Hussein, a violent insurgency and - in recent months - bloody warfare between Muslim sects have erupted. More than 20 U.S. service members have died in November, after 105 were killed in October.
But Rumsfeld said the nation needed to understand that fighting terrorism is different from World War II, where the country mobilized and fought a defined enemy with borders and land of its own. But like the Cold War, fighting terrorism will take a perseverance and understanding of what's at stake.
"We need context. History provides that context," he said.
Rumsfeld declined to grade his stint as defense secretary, saying "Oh, I'll let history worry about that."
Less than 24 hours after announcing he would end his second stint as defense secretary, Rumsfeld said the key to the global war on terrorism and defeating Muslim extremists would be getting other governments involved in the fight.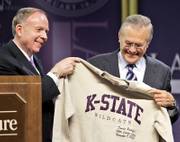 Rumsfeld declined to offer advice to former CIA Director Robert Gates, who will replace Rumsfeld as defense chief. However, Rumsfeld joked that his departure allowed him to promote K-State's Landon Lecture series, named for famed Republican Alf Landon, Kansas governor in 1933-37, the 1936 GOP presidential nominee and father of former Sen. Nancy Kassebaum Baker. The lecture was announced last week, before Rumsfeld had announced his resignation.
"Glad I could help out," Rumsfeld said.
Richard Myers, former chairman of the Joint Chiefs of Staff and a supporter of Rumsfeld in a time of withering criticism from ex-generals, said in introducing the defense chief that he is a leader who shows loyalty down the chain of command.
"He has had many opportunities to deflect the arrows coming his way, to the military," Myers said. "It would have been easy for the secretary of defense to deflect it. He sucked up all those arrows and continued to lead the department in the way that he knew was right."
Rumsfeld attended the renaming of a military science building in honor of Myers, a graduate of K-State and now a part-time professor.
Rumsfeld talked about the mission to train Iraqis to take the lead securing their country and role of U.S. advisers. The Army's 1st Infantry Division at Fort Riley is training those advisers, some of whom were in the crowd.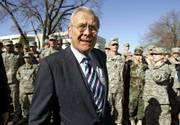 Capt. Onwe Ivory said he was a bit surprised that Rumsfeld was resigning but understood his reasoning. Ivory didn't think Tuesday's election results pushed the secretary out the door faster.
"Ultimately, it was his decision. He's pretty much his own man," said Ivory, 27, of Memphis, Tenn. "I think he did what was right for him."
Ivory spent a year with 1st Cavalry Division in Iraq and is going back in the coming months.
Rumsfeld referenced the training mission, calling it a key to ending the U.S involvement in Iraq and getting their people to take responsibility for security.
In the crowd, Master Sgt. Jeff Curd, 50, an Army reservist from Paducah, Ky., who spent a year in Iraq, expressed surprise that Rumsfeld was stepping down.
"I thought that Rumsfeld was a wonderful man," Curd said. "He stuck to his guns. When he made a mistake, he wasn't afraid to stand up and admit it."
Rumsfeld was to visit Fort Riley later Thursday.
Outside the arena, small groups of protesters gathered, including those from the anti-gay Westboro Baptist Church in Topeka, which has drawn attention for protesting military funerals. Their presence didn't sit well with students who were there to protest the war in Iraq.
"It doesn't help when those clowns are here," said Kristina Kramer, a senior sociology major.
Kramer said that despite having Fort Riley and 12,000 soldiers less than 20 miles away, students aren't afraid to speak out against what they see as flawed policies by President Bush and "his cronies."
"We do get a lot of anger, because people think we don't support the troops," Kramer said. "We do; we just don't want them to die."
Copyright 2018 The Associated Press. All rights reserved. This material may not be published, broadcast, rewritten or redistributed. We strive to uphold our values for every story published.