Photo Gallery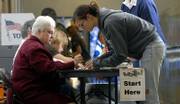 Election 2006
It's not unusual to hear about bugs in electronics. But a real creepy crawler was the culprit that messed up a ballot scanner this morning at a Lawrence polling place.
"We had an actual bug crawl in the scanner," said Keith Campbell, Douglas County's deputy of elections.
"It was like a June bug . . . a beetle," Campbell said. "The bug prevented the ballots from going into the scanner. . . . What happenned was we had to dig that bug out."
Once it was out, ballots could be scanned again at the polling place, which was at the United Way Building, 2518 Ridge Court, the polling place for voters in Precinct 32.
The bug appeared on a day of strong voter turnout across Lawrence.
"So far, it seems like we're seeing some really good numbers," Douglas County Clerk Jamie Shew said this morning. "Everybody is reporting very brisk business."
Poll workers agreed. Ruth Lichtwardt, working at the Lawrence Senior Center, said turnout was good.
Tell us about your voting experiences
Readers are invited to share their voting experiences in comments below or by e-mail to editor@ljworld.com.
-->
"Better than usual," she said. "More people. We had six, eight people standing in line ready to vote before 7 a.m. Last time we didn't have any."
At Checkers, 23rd and Louisiana, nearly 140 people had voted by noon - up from 87 for the whole day at that site during the August primary.
Shew is expecting a countywide voter turnout of about 55 percent, but said it likely will top 60 percent in areas of the county that include the 2nd Congressional District, which features a fierce contest between Republican incumbent Jim Ryun and Democratic challenger Nancy Boyda.
Voters seemed to be bringing plenty of passion to the polls as well. Lucius Hallett, who was voting at Kennedy Elementary near 19th and Harper, said he was driven to the polls by a mistrust of the Republican Party on "basically every issue." He called at least one candidate on the ballot a criminal.
That type of talk has been pretty common in the campaign season, several voters said.
"I'm absolutely glad it is over," said Marti Lucero as she finished voting at Windsor Place, near Kasold and Peterson drives. "I'm glad those commercials will be over. It seems like it has been more cutthroat than usual."
That hasn't seemed to keep voters away, though. There was a line of about 30 people at Windsor Place waiting to vote when polls opened at 7 a.m., a poll worker said.
Warren Quillin, who also was voting at Windsor Place, said it was easy to understand why so many people were coming out. He said many people were viewing the election as referendum on the war in Iraq.
"All politics are local to an extent, but I think the entire situation in the world has flavored this election to the point that you can't separate it," Quillin said.
At Pioneer Ridge Assisted Living, where some West Lawrence residents voted, there seemed to be hints that the predicted tide of Democratic voting was materializing.
John Charmes and Craig West both identified themselves as registered Republicans, but both said they voted mostly for Democrats.
"The Republicans have become too conservative," West said. "I believe in the separation of church and state".
At Corpus Christi Catholic Church in West Lawrence, poll worker D.B. Tracy reported that the precinct had received 105 votes by 9 a.m.
"We had a big bump at 7 a.m. and it's been pretty steady since then," said Tracy, who expected a mild increase during the lunch hour and heavier turnout at the end of the workday.
At Langston Hughes Elementary School on George Williams Way, voter Paul Gray, 59, said he came out to support U.S. Rep. Jim Ryun.
"I always vote, I'm grateful to live in a county where we can," Gray said.
Back on the east side of town, Susan King was one of the first voters on line this morning at Lawrence Senior Center.
"I didn't vote because of specific issues, but because it's a citizen's responsibility to vote," she said. "And other people, in other countries, don't have that privilege."
She added: "I voted for a party I don't usually vote for and this is the second election that I've done that." King said she didn't want to identify which party but that "the issues are enough to move outside the regular party."
And at Pinckney School, Lori Lange, the supervising judge, described the turnout as steady and "almost as busy as a presidential election, which is surprising."
Tuesday's turnout was the first general election to use the new computerized voting equipment.
"I'm in software and I worry about machine voting," said Marc Briand, who voted at Lawrence Senior Center. "It's disconcerting, particularly machine voting that doesn't leave a paper trail. I'd much rather have just plain paper ballots. But, I did like seeing that there is a paper ballot here even if it does get counted by a machine."
Problems appeared to be minor. Aside from the bug at United Way, elections officials said there was a brief problem with a scanner this morning at The Windsor, 3220 Peterson, the polling place for Precinct 6.
"There was an issue and we corrected it this morning. But it was not a bug," Campbell said.
Shew said he had not received any reports of polls not opening on time, which was an issue in a few locations during the August primary. Shew said he had all poll workers arrive at voting locations by 6 a.m. in order to give them plenty of time to set up voting equipment. This is the second election where Douglas County will be using electronic vote scanners at each polling place.
The Journal-World received an e-mail this morning from a voter who walked to his polling place at West Junior High, but couldn't find any place to vote.
The voter said he went home, then came back later and found an entrance to where he could vote at the school.
Shew said he did have his street signs that say "Vote" on them stolen in that area, so there was less than normal signage.
"I can say with confidence that West Junior High was open," Shew said. "Because we had some problems in August, that was a very big push on my part."
Copyright 2018 The Lawrence Journal-World. All rights reserved. This material may not be published, broadcast, rewritten or redistributed. We strive to uphold our values for every story published.