Be ready for a disaster.
That was the message Saturday at the Community Preparedness Fair, staged at the Church of Jesus Christ of Latter-day Saints, 3655 W. 10th St.
"It's just about making families safe," said Kim Murphree, organizer of the fair and Lawrence Police Department spokeswoman.
The event started last year in the wake of Hurricane Katrina.
While it's not likely for Kansas to be in the path of a tropical cyclone, the state is susceptible to tornadoes, flash floods and winter storms.
"I think there are a lot of people that are prepared," said Paula Phillips, Douglas County Emergency Management Agency director. "But are they truly prepared ... for a pandemic, to be at home and not be able to go to the grocery store for a week or two? No."
The Federal Emergency Management Agency recommends all Americans keep a 72-hour disaster kit in their home in preparation for any emergency.
"Each person in a family should have three days' worth of supplies to take care of themselves in the event that there's a catastrophic event," Phillips said.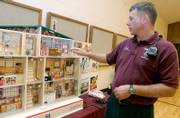 Jean Johnston said she has food and water saved in case of an emergency but isn't totally prepared for a disaster.
"I guess it's just human nature," she said. "We don't want to believe the worst is going to happen."
Others, such as Melinda Price, are better prepared.
"I do have emergency kits for every person in my family," she said. "We live in an area where there are natural disasters that are going to happen, and I don't want to be somebody who's not prepared."
But even the well-prepped learned some new tricks Saturday.
"Clever," said Price, as Reid Nelson showed her how to turn a solar garden light into a reading light by connecting it to a copper wire.
Lawrence-Douglas County Fire & Medical kept the most captive audience, with an interactive model house that demonstrates how to prevent household hazards.
"It's very cool," said Lt. Mark Hummell. "It gives them something to take back and make their home a little bit safer."
Other participants included the Red Cross, the Lawrence-Douglas County Health Department, the Douglas County Emergency Communication Center, and the Douglas County Amateur Radio Club.
"We'll be growing each year," Murphree said.
Copyright 2018 The Lawrence Journal-World. All rights reserved. This material may not be published, broadcast, rewritten or redistributed. We strive to uphold our values for every story published.