Overland Park — Chance Riley finally figured out what he was doing wrong and when he did :
Riley threw three second-half touchdown passes, and Lawrence High rallied past Blue Valley North, 36-20, in the Class 6A football playoffs Friday night at the Blue Valley District Activities Center.
Riley, the Lions' senior quarterback, completed only 2-of-6 passes for 27 yards and Lawrence lagged, 13-10, at halftime. But he was 4-for-4 for 132 yards in the second half with three going for touchdowns.
"The plays were there in the first half, and we had good protection," Riley said. "I just had bad fundamentals."
Offensive coordinator Jeremy Milne noticed Riley wasn't releasing the ball correctly, so a fateful change in mechanics was made at the break.
"He didn't throw well in the wind," Lions' head coach Dirk Wedd said. "The ball was taking off on him, but coach Milne did a great job in spotting what he was doing wrong."
Riley's first touchdown pass was mostly running back Tony Williams' doing. Williams caught a screen in the left flat and raced 65 yards to the end zone to give the Lions a 17-13 lead midway through the third quarter.
Photo Gallery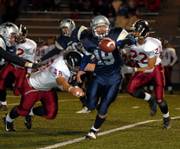 LHS vs. BV North football playoffs
But after the Mustangs had retaken a 20-17 advantage late in the same period, Riley drilled a 16-yard scoring strike to Nathan Padia on the first play of the last quarter.
That 80-yard drive, which also featured a 41-yard Riley-to-Padia aerial, gave the Lions a lead they wouldn't relinquish. Exactly five minutes later, Riley tossed a 10-yard TD pass to tight end Quintin Rucker. Then the Lions added the coup de grace on a two-yard TD run by Williams with 3:02 remaining.
Three times the Lions surrendered leads to the Mustangs, but each time they battled back. Then they dominated the fourth quarter.
No play set the tone more than a surprising and gutsy call by Wedd early in the second quarter. At the time, the Lions were trailing, 13-3, hadn't really done much on offense and faced fourth down with four yards to go on their own 16.
In an obvious punting situation, Wedd sent in punter Tyler Hunt who : what??? : took off around right end instead of kicking the ball.
"I wanted (Wedd) to call that, but all I wanted was the first down," Hunt said. "The touchdown was just icing on the cake."
Hunt broke a couple of tackles to gain the four yards, then outraced the stunned BV North defenders for 80 yards of frosting on his momentum-changing 84-yard touchdown sprint.
What made Wedd make such an astonishing call?
"I wanted to send a message to the team that I wanted to win," Wedd said. "I didn't want us to sleepwalk into a big hole."
Hunt's surprising gallop cut the Mustangs' lead to 13-10 and that's the way the score remained until halftime. The two teams traded touchdowns in the third quarter, then the Lions assumed command in the fourth behind Riley's passing.
After the Lions took charge, the Mustangs had to abandon their ground-oriented game plan.
I-Back Casey Curran, who entered with 1,874 yards rushing, added 163 yards to his massive total Friday night, but Curran carried only seven times for 49 yards in the second half after a pounding out 114 yards on 20 carries in the opening 24 minutes.
Blue Valley North finished with a 6-4 record, the same mark the Lions will take into next Friday's rematch with unbeaten Shawnee Mission West at Haskell Stadium.
SM West humbled the Lions, 51-7, earlier this season in Overland Park.
"This is what we've been hoping for : a chance to redeem ourselves," Riley said.
Copyright 2018 The Lawrence Journal-World. All rights reserved. This material may not be published, broadcast, rewritten or redistributed. We strive to uphold our values for every story published.