Ryan Murphy rolled to his right on 4th-and-goal from the Shawnee Mission East 6-yard line. He saw tight end Christian Ballard separate himself from the defense and raise an open hand. Murphy fired a pass toward the end zone to an outstretched Ballard, but it went off his fingertips and into the air.
Then, Craig Rosenstengle saved the day.
The junior wasn't the intended receiver, but he alertly grabbed the ball to capture a circus-like touchdown. Free State went on to defeat Shawnee Mission East in the first round of the Class 6A state playoffs, 20-9, Friday night at Haskell Stadium.
"Rosy just happened to be in the right spot at the right time," Free State coach Bob Lisher said. "Sometimes in the playoffs, you need a little luck. I hope we didn't use all of ours up tonight. But that's more luck than anything."
The play-action pass capped a 90-yard Free State drive. Rosenstengle only had three catches for 25 yards. None of those were more important than the six yards that secured Free State its first playoff victory in school history.
"When the ball popped up in the air, I saw it and snagged it - perfect timing," Rosenstengle said. "To be that close to the ball was pretty amazing."
That fourth-quarter drive stuck out because Free State (10-0) was inconsistent in the red zone. Of their six trips, the Firebirds walked away with points in only three.
Photo Gallery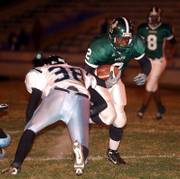 Free State vs. SM East football playoffs
"We just made bonehead mistakes that we have to fix," Murphy said. "We just weren't good fundamentally tonight. That's just uncharacteristic of us. We haven't done that all year. I think it was just the nerves of trying to get that first playoff win."
Shawnee Mission East (5-5) had the Firebirds scouted well. Defensive back Bobby Miller intercepted Murphy's pass on the first Free State offensive play of the game. Miller, also a wide receiver, had his way with the Free State secondary, hauling in nine receptions for 155 yards.
"We get the ball up in the air and he comes down with it," SM East coach John Stonner said of Miller.
The one time Miller didn't make a catch proved to be the most costly for the Lancers. On the 14th play of a drive that started on the SM East 20, Miller dropped an open pass near the goal line on 4th-and-6.
"We almost pulled an upset tonight," Stonner said. "The score doesn't indicate how close this game was."
Free State scored on the ensuing possession with Rosenstengle's catch. The Firebirds made the 11-play drive interesting with some added chicanery. Lisher called for a fake punt on a 4th-and-5 from his own 35-yard line. Caleb Gress had the ball snapped directly to him and attempted to run around right end for the first down. He was near the first-down marker, but a SM East defender blatantly grabbed his facemask and cost the Lancers 15 yards and a first down.
"We were yelling, 'fake punt, fake punt,'" Stonner said. "But you can yell from the sideline all you want. It was a great call by their coach."
The 20 points tied Free State's lowest scoring output of the season. Simply put, the Firebirds hadn't had to fake a punt before Friday night.
"They were hurting us on some passing," Lisher explained. "I didn't want to give them an opportunity at that time to come back. You have to gamble a little bit in the playoffs, and I thought that was a quality time to do it."
On the very next play, Ryan Murphy scrambled for a routine six-yard gain to the same sideline, but a SM East defender leveled him after he ran out of bounds. The back-to-back 15-yard penalties cost the Lancers two first downs. The late-hit penalty drew a raucous outburst from SM East assistant coaches.
"It was a late hit from our angle," Lisher said.
SM East looked discombobulated after the Rosenstengle touchdown. Quarterback Forrest Miller hadn't thrown an interception all night, but threw a pair on the final two SM East possessions.
With the victory, Free State will face Olathe East next week. O-East defeated O-South, 33-7, Friday night.
As for Free State's troubles on offense, Ryan Murphy hoped it would be a one-night occurrence.
"I'll think we'll get it corrected by next week," Murphy said. "You'll see the old Free State team out there."
Copyright 2018 The Lawrence Journal-World. All rights reserved. This material may not be published, broadcast, rewritten or redistributed. We strive to uphold our values for every story published.