Washington — The unemployment rate sank to a five-year low of 4.4 percent and workers' wages grew solidly last month, flashing a picture of a jobs market on firm footing as voters go to the polls.
Figures released Friday by the Labor Department suggested that employers are coping fairly well with a national economy that has lost a lot of momentum because of the housing slump.
Still, pockets of pain were evident. The struggling auto industry slashed jobs. So did companies involved in home building, as well as furniture makers and real-estate firms - casualties of the sour housing market. Retailers continued to pink-slip employees.
All told, the economy added 92,000 new jobs in October. Although that fell short of economists' expectations for an increase of around 125,000, gains in both August and September turned out to have been much stronger.
For those two months combined, the economy generated 139,000 more jobs than previously estimated, and that eased the sting from October.
So did the drop in the unemployment rate, from 4.6 percent in September. It marked the third month in a row that the rate had declined.
Republicans and Democrats looking for help in Friday's report - the last snapshot of the employment scene before next week's elections - clashed about which party would do a better job taking care of the country's broader economic and fiscal health.
"Tax cuts have led to a strong and growing economy, and this morning we got more proof of that," President Bush said at a Republican rally in Springfield, Mo.
House Democratic Leader Nancy Pelosi of California fired back: "Bush's handling of the economy is not good for America's middle-income families." Democrats argue the Bush's tax cuts mainly helped the wealthy, and they blame his trade policies for the country's bloated trade deficits and the loss of U.S. factory jobs.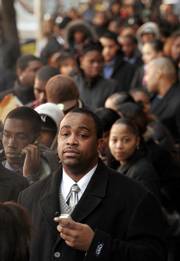 How voters view job availability, wage growth and other economic conditions is likely to play a role in the balloting nationwide on Tuesday.
The president's approval rating on the economy is at 40 percent, according to an AP-Ipsos poll. And those surveyed trusted Democrats more than Republicans to handle the economy.
Workers, many of whom have seen their wages whittled by inflation, saw solid gains last month. Their hourly earnings climbed to $16.91, up 0.4 percent from September. Over the past 12 months, wages have grown by 3.9 percent.
"Consumers' paychecks are now staying ahead of inflation, which has eased because of the drop in energy prices," said Lynn Reaser, chief economist at Bank of America's Investment Strategies Group. "People are finding jobs and making more money even after inflation."
Growth in wages should also support consumer spending, an important fuel to keep the economy moving. But a rapid and sustained advance could make the Federal Reserve fret about inflation flaring up. That's not good for the economy or workers' pocketbooks, ultimately, because inflation can eat into everybody's buying power.
On Wall Street, worries about a rise in oil prices amid threats of attacks near production facilities in Nigeria eclipsed enthusiasm over the employment report. The Dow Jones industrial average lost 32.50 points to close at 11,986.04.
The hunt for jobs got shorter in October.
The average time the unemployed spent in their search was 16.5 weeks, an improvement from the 17.4 weeks a month earlier.
The 4.4 percent unemployment rate was the lowest since the spring of 2001.
The jobless rate for blacks fell to 8.6 percent last month, also the lowest in more than five years. The rate for Hispanics dropped to 4.7 percent, the lowest in record-keeping going back to 1973.
The employment gains come against a backdrop of a slowing national economy.
Given these circumstances, the Federal Reserve held interest rates steady last week for the third meeting in a row but made clear that policymakers will keep a close eye on inflation.
Friday's report reduced the chances that the Fed would cut rates any time soon and kept alive the notion that another rate increase might be needed at some point to quell inflation.
To fend off inflation, the central bank since June 2004 has hoisted rates 17 times, the longest string of increases in Fed history. The Fed's goal is to slow the economy sufficiently to thwart inflation but not so much as to push it into recession.
Economic growth slowed to a 1.6 percent annual rate in the late summer, the most sluggish pace in more than three years. The housing slump was a major factor in the slowdown. Economists believe growth in the current October-to-December quarter will turn out better.
"Even though the economy has downshifted ... you have a picture of a labor market that is pretty healthy," said Joel Prakken, chairman of Macroeconomic Advisers.
Copyright 2018 The Associated Press. All rights reserved. This material may not be published, broadcast, rewritten or redistributed. We strive to uphold our values for every story published.