Ottawa — A "Healing Field" featuring 300 American flags flying under the lights at Forest Park will be the center of attention Monday night when Franklin Countians mark the start of a weeklong tribute to military veterans.
Among those flags will be one honoring Jake Butler, the first Kansan killed in Iraq after the start of the war in March 2003. The flag belongs to his parents, Jim and Cindy Butler of Wellsville.
"We just want to put it up there to represent not only Jake but the other soldiers," Jim Butler said.
Others will have the opportunity to sponsor a flag by paying $30 and attaching a yellow ribbon to it bearing the name of a veteran. After Veterans Day activities Nov. 11, people who sponsored a flag can have that flag and its pole, said Harold Mayes, one of the organizers of Ottawa's Veterans Day activities.
The field of flags will be in the outfield at the park's ballfield, and it will be open 24 hours during the week, Mayes said. Volunteers will be at the field during that time.
"It's a chance for people to walk through the flags and remember the veterans," Mayes said. "We thought this fit very well with what we are trying to do, which is honor the veterans."
About 30 people will gather at the park Monday morning to put up the flags. The ceremony will start at 5 p.m. It will include commentary and patriotic music.
Such flag displays have grown in popularity across the country after the National Healing Field Foundation emerged from an effort to honor emergency personnel and others killed in the 9/11 terrorist attacks.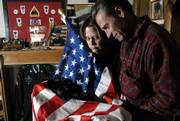 The flag the Butlers have once flew in a healing field in Virginia with their son's ribbon on it. It was obtained by Skip Miller, father-in-law of Kevin Osgood, a gunner who was riding in the same Humvee as Jake Butler on April 1, 2003, when they became involved in a firefight in Iraq. Osgood was seriously wounded but survived. Miller and Osgood drove to Wellsville several months ago and gave the flag to the Butlers.
"It means a lot to us personally," Jim Butler said of the flag from Virginia. "It shows how there are a lot of people out there thinking about this."
Anyone who wants to sponsor a flag can call Mayes at (785) 242-8744 or go to the display next week.
The Ottawa Veterans Day Parade will be at 10:45 a.m. Nov. 11. About 140 entries had signed up as of late this week, Mayes said. After the parade in Forest Park, several events will take place. Among the highlights will be a Civil War firing demonstration at 12:15 p.m. and a World War II re-enactment at 1:30 p.m. A USO show will go on at 3 p.m.
The program "Voices of World War II: Experiences from the Homefront" will be presented at 2 p.m. Thursday in the Ottawa Public Library. The library also will invite people who lived through the World War II years to write about their experiences.
Other events this week:
¢ A Lawrence Veterans Day ceremony will be at 11:11 a.m. Nov. 11 at the Dorsey-Liberty Post 14 of the American Legion, 3408 W. Sixth St. Also participating will be Jayhawk Chapter 22, Disabled American Veterans, and Alford Clark Post 852 of the Veterans of Foreign Wars. The public and all veterans are invited to attend. A lunch will follow the ceremony.
¢ A parade will begin at 10:30 a.m. Nov. 11 in downtown Leavenworth. Cavalry Buffalo soldiers will be grand marshals.
Copyright 2018 The Lawrence Journal-World. All rights reserved. This material may not be published, broadcast, rewritten or redistributed. We strive to uphold our values for every story published.