Photo Gallery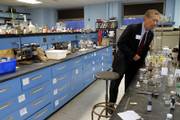 KU maintenance
Kansas University usually likes to look good for state lawmakers, but administrators Thursday organized a special tour to highlight the school's flaws.
"It's pretty impressive - not in a good way," Sen. Vicki Schmidt, R-Topeka, said.
KU led a group of lawmakers through the basements, up the back staircases and across campus - highlighting the problems that are among the more than $237 million in lingering maintenance needs at KU's Lawrence and medical center campuses.
"What I think people are beginning to realize is that this is a serious problem - something that could result in injury to students or faculty," Chancellor Robert Hemenway said. "We've just been stretched too thin in order to maintain these buildings in the way that they have to be maintained."
The visit was the latest in a series of working lunches and tours at Kansas Board of Regents institutions highlighting a backlog of building maintenance needs estimated at more than $500 million.
More about higher education funding
The tours, hosted by the regents, are meant to drum up support for the issue.
"I don't know whether this will be the year or not," Hemenway said. "As I look over the last 10 years, there seems to be more attention this year to what the problems really are than in previous years. I'm hopeful that we'll be able to come up with a solution."
Last year the regents proposed a tax increase to deal with the maintenance backlog. That plan didn't go anywhere.
Sen. John Vratil, R-Leawood, said it's time to deal with the issue.
"I think that our constituents would be horrified if they knew what was going on and the fact that we weren't taking care of the assets of the state of Kansas any better than we are," he said. "There are creative ways to come up with resources to solve this problem."
In addition to Schmidt and Vratil, Thursday's tour included state lawmakers Sen. Nick Jordan, Sen. Karin Brownlee, Sen. Dennis Wilson, Rep. Kevin Yoder, Rep. Ray Merrick, Rep. Mike Burgess, Sen. Pat Apple, Rep. Jene Vickery, Sen. Marci Francisco, Rep. Paul Davis, Rep. Barbara Ballard and Rep. Joe Humerickhouse. House candidates Tanya Dorf and Rick Davis also participated.
Copyright 2018 The Lawrence Journal-World. All rights reserved. This material may not be published, broadcast, rewritten or redistributed. We strive to uphold our values for every story published.