Topeka — Higher education officials Tuesday issued a call to arms for more money, saying state funding to universities has slumped like the Kansas City Royals.
"Just as the winning percentage of the Kansas City Royals has declined dramatically since that team won its only World Series title in 1985, the state's investment in its six universities has slipped significantly over the same time period," said Reginald Robinson, president and chief executive officer of the Kansas Board of Regents.
Robinson's comments represented an opening salvo in what is likely to be an intense debate about higher education funding during the 2007 legislative session, which starts in January.
State Sen. Jean Kurtis Schodorf, R-Wichita, chairwoman of the Senate Education Committee, said higher education had waited patiently in recent years as the state grappled with a recession and then a costly lawsuit on financing K-12 schools.
"They have been on the back burner in terms of funding," Schodorf said. "I'm not surprised that they are coming forward now."
Robinson said the state would have trouble competing economically unless it invests more in higher education.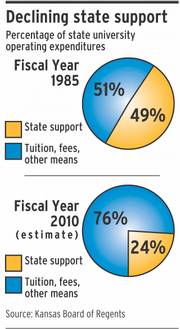 Individuals and society as a whole benefit from higher education through increased income, less reliance on government programs and an increase in civic involvement, he said.
Spreading the message
In order to get their message across, regents officials will have a series of on-campus working lunches with legislators and legislative candidates. The first one is Sept. 27 at Pittsburg State University. Meetings are planned Oct. 23 at the Kansas University Medical Center campus in Kansas City, Kan., and Nov. 2 at the KU Lawrence campus.
Higher ed officials also are trying to get lawmakers to approve a plan to pay for nearly $600 million in repairs and renovations needed at college campuses across the state.
So far, those efforts have run into a brick wall of no-new-tax positions. And significant funding increases are likely to run into opposition.
Alan Cobb, state director of Americans for Prosperity, an anti-tax group, said taxpayers already are overburdened.
"Let's not forget who is paying for higher ed in Kansas already," Cobb said. "Hardworking families and students in Kansas who are paying income tax, sales tax and property tax to pay for all of Kansas government, including higher education."
More about higher education funding
Americans for Prosperity was founded by billionaire David Koch, executive vice president and a board director for Koch Industries, based in Wichita. Koch was the Libertarian Party candidate for vice president of the United States in 1980.
Regents numbers
According to a regents study, however, the state's portion of tax dollars going to higher education is decreasing.
In 2005, the state contributed 29 percent of what was needed to operate state universities, according to the study. In 1985, that total was 49 percent.
Meanwhile, in the same period, tuition has increased from providing 15 percent of universities' budgets to 23 percent, the study said.
The reduction in the state's portion of funding has fallen hardest on students and their families who must pay the increased tuition, Robinson said.
In addition, since 1985, total state spending has increased 54 percent but state university support has grown only 5 percent, the study showed.
Other side of the coin
But Cobb said other data show Kansans make a major commitment to higher education.
He said Kansas ranks eighth in higher education spending as a percent of personal income, and 14.5 percent of the state budget goes to higher education, more than the national average for states, which is 10.8 percent.
"As the regents recognize, it's not as if the state budget isn't growing - it has grown a lot," he said. "It seems to me the beef the regents have is with the other areas of the state budget that have increased so much faster than higher ed."
Schodorf said it would be difficult to meet all the state's funding needs because of the Legislature's approval last session of a $466 million, three-year school funding plan that was accepted by the Kansas Supreme Court, which dismissed the school finance litigation.
"The problem is there is no wiggle room in the budget," she said.
But Schodorf said she and others would work to provide higher education with some benefits.
"They have been good troupers because of this K through 12 funding crisis that we have experienced," she said.
Copyright 2018 The Lawrence Journal-World. All rights reserved. This material may not be published, broadcast, rewritten or redistributed. We strive to uphold our values for every story published.