Artist Stan Herd snapped a water pack around his waist and jumped up and down a couple times to warm up.
"Let's do it, guys," he said before he flashed a double-V sign at a crowd of supporters and started jogging down the road with his 14-year-old son Evan and a handful of other friends at his side.
Herd, the internationally known crop artist and painter, on Monday began a 12-day, 100-mile "run to the Flint Hills" to promote a variety of causes including physical fitness and a state recycling program. He'll stop and paint landscapes along the way, and five of them will be given away in a drawing.
"I'm either going to die or get in shape on this trip," said Herd, 55, who said he dropped wine in favor of wheatgrass in recent days.
He and his son left Monday morning from Eagle Bend Golf Course on the outskirts of Lawrence and made it to Overbrook by day's end. The two plan to walk up to 10 miles and run up to five miles each day as they head south and west into the tallgrass prairie. A group of supporters is providing help with supplies and logistics on the road.
"It's not like walking the Sahara. We've got friendly folks around," Herd said. "We're not trying to be macho men here. We're just trying to get out to the prairie and paint landscapes."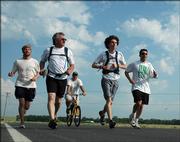 The run is a collaboration with the Kansas Department of Health and Environment, which agreed to pay Herd $500 apiece for five paintings he'll produce during the trip that will be given away during a drawing later this summer. Anyone who completes an entry for the department's "Get Caught Recycling" program and submits it by June 30 will be entered in the drawing to win a painting, state employee Rodney Ferguson said.
The entry form is available at www.getcaughtrecycling.org.
Herd said he began to get more serious about fitness last summer after he and his son completed Red Dog's Dog Days, the annual exercise program conducted by Don "Red Dog" Gardner. At age 55, Herd said, he's at risk of slipping into poor physical health.
For Evan, a 14-year-old sophomore-to-be at Free State High School, the trip is an exciting way to start the summer and a chance to spend time with his dad.
Herd is paying his way by paintings he plans to produce along the way. He traded a yet-to-be-completed painting for two nights at a Cottonwood hotel and one for two nights at a bed and breakfast in Council Grove.
"I've got 15 canvases stretched," he said.
Copyright 2018 The Lawrence Journal-World. All rights reserved. This material may not be published, broadcast, rewritten or redistributed. We strive to uphold our values for every story published.