Wichita — The game was played at a Double-A stadium. Even so, the park wasn't big enough for a high school senior whose talent never had been louder than Saturday evening with a state title in his hands.
Clearing the fence in left-center at Lawrence-Dumont Stadium requires juicing a baseball 390 feet. Beyond that fence looms a tall, wide, and for one startling instant, very loud scoreboard.
Free State High's Scott Heitshusen, batting with two strikes, merely tried to make contact. He made contact with the Coca-Cola banner advertisement painted across the top of the scoreboard. The sound of cowhide meeting steel could have been mistaken for a gunshot, except it was too loud.
Heitshusen's two-run home run, his lone hit in 10 state tournament at-bats, was the loudest moment of a baseball game packed with drama and won by Free State, 6-5, over perennial 6A power Maize High.
"I've never seen a ball hit like that by a high school kid," Firebirds coach Mike Hill said. "Say what you want about the wind blowing out. Say what you want about an aluminum bat. If the wind's blowing in and it's hit with a wood bat, it's still out."
If the scoreboard hadn't stopped it, the ball would have come to rest deep into the parking lot.
Photo Gallery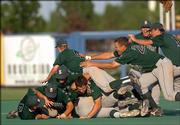 6A baseball champs
"At least 450," Hill estimated, conservatively.
The monster mash only begins to tell the story of Heitshusen's contribution to Free State's first baseball state title. He went the distance on the mound, allowed four hits, struck out seven and allowed two earned runs, one day after tossing two innings of no-hit relief.
The two-run home run in the third tied the score at 3 in a game that tugged emotions back and forth, back and forth, right down to the final at-bat, a liner second baseman Travis Ice snared and threw to first to double up the base-runner.
Baseball players come in all sizes and so do two-run hits. Ice is at least a half-foot shorter than Heitshusen, and his two-run single that put his team up 5-3 in the fourth was a bouncer up the middle. The Maize middle infielders criss-crossed trying to catch up to it, but the baseball was as determined to reach its goal as the player who hit it.
Maize roared back. Dylan Petrich (four RBIs) hit a two-run home run over the left-field fence to tie the score, 5-5. Right then, Free State left-hander Travis Blankenship, who had tossed a shutout seven hours earlier, and sophomore reserve catcher E.J. Swanson ran to the bullpen in right-field foul territory to heat up. Heitshusen reached into his reserve tank, never let another runner get past second and had three consecutive strikeouts.
More about the championships
Robby Price began warming up in the top of the sixth, and to buy him time, Hill had Brett Lisher come over for a fake chat near the third-base coach's box as Maize fans booed.
"I wish I could tell you I told him to go up there and hit a home run, but I didn't," Hill said.
He didn't have to, just as Lisher's father, Bob, the football coach, didn't have to tell his son to catch a six-yard pass on third-and-five. Some athletes just get it done. Lisher hammered a home run over the left-field fence, and Heitshusen and a defense that was shaky in the early innings made it stand up.
"It was a total team effort," Hill said.
And what a team it was.
Copyright 2018 The Lawrence Journal-World. All rights reserved. This material may not be published, broadcast, rewritten or redistributed. We strive to uphold our values for every story published.