Wichita — Saturday was supposed to be the coronation of Free State High senior Alysha Valencia as one of the great distance runners in Kansas prep history.
Instead, the defending Class 6A state champion saw her final state meet come to an end after just two trips around the Cessna Stadium track.
Competing in the first event of the day - the girls 3,200 meters - the defending Class 6A state champion at that distance pulled up after two laps and crumpled to the infield, an aggravated left Achilles' ending her meet mere minutes after it began.
"This is what we've been training for," said Valencia, who planned to run the 3,200, 1,600, 800 and a leg on the Firebirds' 4x800 relay. "It just sucks that the whole year we've been working for right now, and it's not going to work out."
Valencia originally suffered the injury early in the 2006 track season, and, after taking a break to let it heal, returned to her dominant ways during the meat of her senior campaign, including a dominating performance last month at the Kansas Relays.
However, the trouble flared up again May 16, forcing a regimen of doctors visits, ice treatments and keeping her foot in a walking boot.
Photo Gallery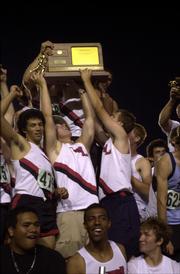 State track
It seemed to help, as she ran roughshod over the competition at last weekend's Class 6A regional meet in Olathe. But it didn't take long for her to recognize that Saturday was a going to be a different scenario.
"I warmed up today, and it was fine. Then I came in to stretch here, and that's when it started hurting," Valencia said. "As soon as we got to the line (to start the 3,200), I knew I was in over my head."
After she left the race, medical personnel immediately drove her to the opposite end of the track for treatment. She was again fitted with a walking boot, relegated to the role of hobbled cheerleader as the Free State girls team ultimately forged a fifth-place finish - missing out on the top-three showing that likely awaited had Valencia been able to run her full slate of events.
"Looking back on it, I obviously did do a lot. (And) I got into the school of my dreams," Valencia said. "It just sucks that (Saturday) wasn't the pinnacle that everyone talks about."
More about the championships
¢ Golds galore for area schools: Baldwin sophomore Heather Garcia won both the Class 4A girls 3,200 and 1,600, finished second in the 800 and ran a leg of the Bulldogs' 4x400 relay that finished fourth. Her most impressive display came in the 3,200, where she didn't allow an early breakaway leader to alter her game plan.
"My coach told me to stay with the main pack and really work the last mile," Garcia said. "I was a little worried about her, but I just did what coach told me to do."
Eudora sophomore Emily Ballock was another multiple area winner, defending her state championship in the Class 4A girls 300 hurdles and striking gold as part of the Cardinals' 4x400 and 4x800 relays. Those efforts helped the Cardinals to a second-place team finish.
On the boys side, Mill Valley junior Justin Woods won Class 5A titles in 100 and the 200. Other golden guys included Ottawa senior Jack Sachse in the Class 5A 800, Baldwin junior Aaron Mills in the Class 4A long jump and Bulldog senior Aaron Hannon in the 300 hurdles.
Copyright 2018 The Lawrence Journal-World. All rights reserved. This material may not be published, broadcast, rewritten or redistributed. We strive to uphold our values for every story published.