Jefferson County residents established the Medina Cemetery in the 1860s, but this will be the cemetery's first Memorial Day in a long time.
Dean Sage, a Perry City councilman and Vietnam War veteran, continues to lead the early stages of a voluntary restoration of the once-forgotten rural graveyard just west of Perry.
"Memorial Day is kind of a deal that maybe we need to teach the younger generation what it's for," Sage said.
Recently, Sage hammered in a new cemetery sign that he and other volunteers paid for out of their own pockets. The volunteers also helped put up a flag pole.
A cemetery association has been inactive for several years.
To prepare for Memorial Day, legionnaires and auxiliary volunteers with the Perry American Legion Post No. 142 will raise an American flag at Medina this afternoon as part of their traveling ritual at six other area cemeteries.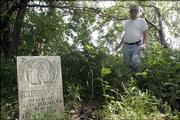 On Monday morning, legionnaires and volunteers will begin their ceremonies at 9 a.m. at Lecompton Cemetery. They will also make stops every half hour at Underwood, Buster, Oak Ridge, Rose Hill and Grantville cemeteries.
At 2 p.m. at the American Legion Hall, 410 Perry Place in Perry, they will host a holiday dinner.
Then Sage plans another informational meeting at the hall to talk more about Medina. Earlier this year, 12 volunteers from the area helped clean up some of the cemetery.
Only five headstones remain in the small rural graveyard among brush and several trees. Halfway between U.S. Highway 24 and Old Highway 24, the cemetery sits next to a dusty road that gets too muddy to travel after heavy rains.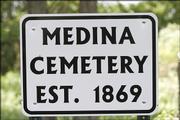 Sage has found records that show 23 people have been buried there - the last in 1905.
He says family members may have eventually moved their loved ones to other cemeteries in the area, but he still wants to put up some kind of directory listing the graves.
"We're working on it, I guess. It will take time," Sage said.
Honoring the dead
Saturday 8 a.m. - Veterans of Foreign Wars Post No. 852 and auxiliary members will place flags on graves, Memorial Park Cemetery. 9 a.m. to 10 a.m. - Cub Scout Pack No. 3052 and Sons of the Union Civil War Veterans will place flags on graves of Civil War veterans, Oak Hill Cemetery.
Monday 6 a.m. - American Legion Dorsey-Liberty Post No. 14 and auxiliary members will put out flags at Clinton Cemetery near Clinton Lake. 6:15 a.m. - American Legion Dorsey-Liberty Post No. 14 members will put out 300 flags at Oak Hill Cemetery. 10 a.m. - Ceremony by the American Legion members at Oak Hill Cemetery. 10:30 a.m. - Ceremony by the American Legion members at Clinton Cemetery; guest speaker will be national guardsman Staff Sgt. Rod Moyer, principal at Eudora West Elementary School. 11 a.m. - Ceremony by the Veterans of Foreign Wars members at Memorial Park Cemetery; guest speaker will be Brig. Gen. Jonathan Small, commander of the Kansas Army National Guard.
Copyright 2018 The Lawrence Journal-World. All rights reserved. This material may not be published, broadcast, rewritten or redistributed. We strive to uphold our values for every story published.