With former Enron Corp. chiefs Kenneth Lay and Jeffrey Skilling finally convicted for their roles in one of the biggest corporate scandals in U.S. history, such sketchy behavior in U.S. boardrooms is a thing of the past, right?
Uh, not quite.
"What's going to have to happen is for the rest of the business world to stop looking the other way and tolerating it," said Joe Reitz, who retired this week as co-director for the International Center for Ethics in Business at Kansas University and remains on its board of directors. "People are going to have to be shamed into doing the right thing, I'm afraid, or we'll all be paying the prices for it."
The shame of the Enron bankruptcy, investigation, trial and - on Thursday in Houston - convictions in federal court clearly haven't cleansed all wrongdoing from executive suites, Reitz said. Just this month, for example, news surfaced of probes into three companies' practices for granting stock options to top executives.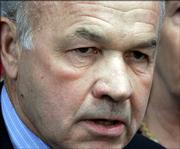 Although no charges have been filed, the effects of the investigations are causing jitters. Three executives at Comverse Technology already have resigned, and Vitesse Semiconductor Corp. has fired three of its top managers.
The companies are said to be under investigation for possible backdating of stock options, the rights for an options holder to buy company shares at a discount. By backdating options, a company could match an option date to a stock's lowest price in, say, a year.
Such a maneuver would allow an executive to buy shares at an unfairly low price, thus improperly maximizing the executive's profits.
"Greed knows no bounds," Reitz said. "The odds are, what, one in 22 million that these peoples' options would happen to come up in consecutive years on the most optimal day for them to get options? It's outrageous. It's outrageous, is what it is."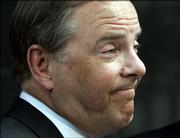 While executives acting improperly can boost their individual fortunes for the short-term, Reitz said, their actions often leave investors and the rest of the business world with the mounting costs.
Accounting scandals promoted passage of the Sarbanes Oxley Act, which places more stringent reporting rules on public companies. Investors, retirees and Enron employees lost billions in the energy-trading company's implosion.
Such illegal actions represent only a fraction of the cases Reitz has followed and sought to prevent during his tenure at the KU ethics center. He has pushed for companies to adopt their own ethics policies, and to prompt boards into paying more attention to the activities of their top executives.
"It's good to see justice served, for people who are abusing the public trust," Reitz said, of the Enron verdict. "Eventually, people are going to get the message, but it's going to take a long time. :
"A lot of it is going to do with corporate governance, so that boards are doing their jobs. And they sure as heck didn't do their job with Enron, and it's questionable about whether they've been doing their jobs if CEOs are getting their options backdated."
The fallout from the conviction likely will lead to more government regulation, Reitz said, "which is going to do nothing but penalize companies who are doing well, and it will penalize everybody."
Chamber series
Jim Haines, president and chief executive officer of Westar Energy, will discuss ethics in business during the final installment of the Lawrence Chamber of Commerce's Spring Luncheon Series, set for noon Tuesday at SpringHill Suites by Marriott.
Cost for the event is $25 for chamber members and $35 for nonmembers. To register, go to www.lawrencechamber.com or call Cathy Lewis at 865-4406 or Kim Wampler at 865-4411.
Copyright 2018 The Lawrence Journal-World. All rights reserved. This material may not be published, broadcast, rewritten or redistributed. We strive to uphold our values for every story published.