Chris Davis' basketball coaching is stretching well beyond Lawrence High School.
The longtime Lions coach, already a pioneer in the use of computer graphics on CBS' basketball broadcasts, is launching a nationwide basketball camp that combines personal instruction and virtual guidance.
SkillsChamp Sports Camp carries a game plan designed to stress basic basketball skills: shooting, dribbling, passing and footwork.
"I've had workout camp for 15 years," Davis said. "It's that workout camp being packaged with a technology thread, and content threads, that allow other coaches in other communities to run the same camp. :
"We look at it as a business that can have a lot of growth. Sports and technology are a fun mix."
More than 100 coaches nationwide have applied to conduct camps in their own towns, Davis said. Charter camps will begin this summer.
While Davis set up the technology and programming, his roster of support stretches beyond Lawrence.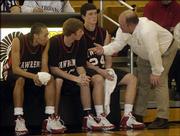 Davis has adapted drills used by Basketball Hall of Famer Pete Newell, for whom Davis previously produced a "Big Man" video instructional series. Newell is a former college coach and NBA executive whose "Big Man" camps are attended by NBA players and the most promising of upcoming centers.
Just this month, Davis' SkillsChamp Sports Camp received the endorsement of the National Association of Basketball Coaches.
The NABC's board of directors voted to support the camp, and that means some notable coaches - including Bill Self, of Kansas; Tom Izzo, of Michigan State; Jim Boeheim, of Syracuse; and Tubby Smith, of Kentucky - are standing behind Davis' product.
"One of our goals is to help the youth of this country get better at the fundamental skills, and this camp has a great system set up already," said Kevin Henderson, the association's associate executive director. "What they teach is easy for us to get behind, because we know they are working towards the same goals."
The five-week curriculum calls for three sessions per week, each 90 minutes long. Each participant gets a personal Web page that includes workouts and serves to track progress, chart scores and supply instructions for camp drills.
Coaches will provide messages about integrity, sportsmanship and teamwork, Davis said, and participants will not play a single game.
"The coaches teach them how to do the drills correctly, and then give them the plans and know-how to help them go through their own workout," Davis said. "Once the campers starts seeing results, they are motivated to continue on their own."
Davis is founder of Coach's Edge and Action 1 Media, two companies that have supplemented CBS' coverage of the NCAA Men's Basketball Tournament for years with virtual playbooks and other graphics-heavy features.
Copyright 2018 The Lawrence Journal-World. All rights reserved. This material may not be published, broadcast, rewritten or redistributed. We strive to uphold our values for every story published.