A large gasoline leak that fueled an April 30 fire in Old West Lawrence will spur an examination of the laws regulating how gas stations monitor and report leaks.
"The law is not perfect," said Gary Blackburn, director of the bureau of environmental remediation for the Kansas Department of Health and Environment.
The law does have at least two provisions that would allow for leaks to go unreported for significant periods of time:
¢ First, gas stations are not required to report losses of less than 1 percent of the total gallons of gasoline sold in a month.
In the case of Presto Phillips 66 at 602 W. Ninth St., Blackburn said the station sold about 70,000 gallons per month. That would allow about 700 gallons of leakage in a month before triggering a state report.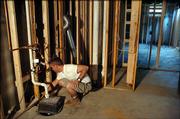 Blackburn said the provision in the state's regulation recognizes that measuring gasoline is an inexact process, especially in older tanks. The tanks at the Presto station were installed in 1978. In many cases, gas station operators use a measuring stick that is stuck into the tanks each night.
"Taking inventory is not an exact science," Blackburn said. "What you have a lot of time is a teenager who is taking a measurement with a stick at midnight, and that is not exact science either."
¢ Second, regulations require there to be two losses of more than 1 percent before a state report is filed. That requirement lengthens the time it takes for state regulators to begin investigating a possible leak.
In Presto's case, store officials in February found statistical evidence they had lost 2,300 gallons of fuel that month. It only was after a loss of slightly more than 1 percent was detected in March that the state was notified.
The result: The state didn't begin investigating the discrepancies until mid-April. Officials ultimately determined the station's pumps had been miscalibrated, allowing customers to receive more than a gallon's worth of gas for every gallon that they purchased.
Now officials say some of the loss was attributed to a small hole in one of the three tanks. Ron Hammerschmidt, director of environment for KDHE, said his department would use the Lawrence incident as a learning opportunity.
"I can tell you that we will sit down internally and see if there needs to be any improvements made to the regulations," Hammerschmidt said.
Doug Wald, a vice president with Presto, said he couldn't comment on whether the state needed to change its regulations.
"We're going to get better, and we're going to make sure we do our part, but I can't tell you what the state needs to do," Wald said.
Presto officials were busy installing new tanks Tuesday. Blackburn said the new tanks will take a "belt and suspenders" approach to detecting leaks. The tanks will have an automated release detection device and observation tubes to allow employees to make visual checks for any leaking gasoline.
"I think they'll be among the best tanks in Lawrence," Blackburn said.
Copyright 2018 The Lawrence Journal-World. All rights reserved. This material may not be published, broadcast, rewritten or redistributed. We strive to uphold our values for every story published.