New Orleans — State and federal authorities tracked the path of a fictitious "Hurricane Alicia" on Tuesday as part of two-day drill aimed at avoiding the chaos that followed last year's deadly Hurricane Katrina.
The drill was organized to allow first responders and others, including Mayor Ray Nagin and Gov. Kathleen Blanco, to react as though a Category 3 hurricane was hitting the state's Gulf Coast.
"I want you to know Louisiana is prepared for the next storm. There is no work more important to the state than protecting our citizens during hurricane season," Blanco told reporters at the state Office of Emergency Preparedness headquarters in Baton Rouge.
In New Orleans, volunteers playing the part of evacuees boarded city buses and headed to the city's convention center. From there, they would be taken to shelters, first within the state and then elsewhere depending upon occupancy.
"The more we practice the better we'll be when a storm hits," Marine Cpl. Jose Resendiz, 30, said as he and about a dozen other make-believe evacuees boarded a bus in New Orleans' Algiers neighborhood.
That aspect of the drill is part of Nagin's new city-assisted evacuation plan unveiled earlier this month. Last year, as Hurricane Katrina approached, thousands of the city's poor were left behind because they had no transportation, couldn't afford to leave or didn't know where to go.
About 1 million people fled the New Orleans area. However, tens of thousands of residents remained and were trapped in attics and stranded on rooftops after flood walls failed, and more than 1,000 people were killed in Louisiana.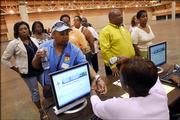 Officials are especially concerned about the state's more than 200,000 residents living in travel trailers and countless others in unfinished homes. The schedule for Tuesday's drill included a mock evacuation of the state's largest trailer site in Baker, a Baton Rouge suburb, where more than 500 trailers house about 1,500 people.
The Federal Emergency Management Agency and the federal Department of Homeland Security had representatives in New Orleans and Baton Rouge for the drill.
Jerry Sneed of the New Orleans Office of Homeland Security said the city will test new technology that allows it to know who's leaving on buses and trains and where they're going.
Already, the state has issued hurricane evacuation guides, complete with maps, travel-trailer safety tips and guidance for preparing disaster kits containing canned food, batteries, toilet paper, insurance policies and wills.
Officials are urging residents to make their own arrangements for a place to stay because shelter capacity, though increased since last year, will not be enough to hold all residents.
Copyright 2018 The Associated Press. All rights reserved. This material may not be published, broadcast, rewritten or redistributed. We strive to uphold our values for every story published.