Baldwin — Baker University President Dan Lambert stressed the importance of teachers to the class of 2006 on Sunday during what was also his farewell speech.
"Good teachers expect the best because they know that the best hope for humankind is always the next generation," the retiring president said during the graduation ceremonies inside the George F. Collins Jr. Sports and Convention Center.
It was a familiar theme for Lambert. During his first speech at the school's graduation 19 years ago he said he spoke about Baker as a teaching university.
"What lasts is what is carried in the human heart from one generation to the next," he said.
Lambert's speech was part of an emotional ceremony for the 158 graduates, who received bachelor's degrees. About 2,000 friends and family members helped pack the gymnasium.
Joy Morgan, mother of senior Jeff Morgan, of Emporia, accepted a posthumous degree for her son and received a standing ovation. Jeff Morgan died April 13 when he was struck by a train in Johnson County.
Photo Gallery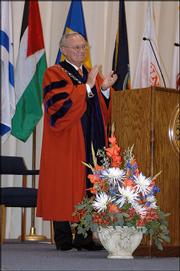 Baker graduation 2006
In a lighter moment, class president Anna Byler, an elementary education degree recipient, read from the Dr. Seuss book "Oh, the Places You'll Go!" as an inspirational tactic.
The university awarded honorary degrees to Myron McCoy, president of the St. Paul School of Theology in Kansas City, Mo., and Lambert, who also was given the new title of president emeritus.
During his tenure, Lambert oversaw the renovation of campus buildings and the opening of Baker's professional graduate school in Overland Park and nursing school in Topeka. Trustees have lauded his work. Patricia Long, acting executive vice chancellor of the University of Missouri-Kansas City, will become Baker's 28th president.
On Sunday, graduates celebrated their new degrees and the fact that Lambert would leave the university with them.
"I've always enjoyed President Lambert, and this is a good way for him to go out: with our class," said Eric Lundstrom, of Lindsborg, who plans to work as a health-care staffing recruiter in Overland Park.
Tristyn Cooper, of Wichita, who earned a Spanish degree, seemed to identify with Lambert's remarks that stressed teaching.
"I like how small (Baker) is because you get a lot of personal attention from teachers," she said.
Near the end of his speech, Lambert talked about the people he and the graduates encountered during their time at the university.
"The faces - whether they are smiling or crying - we're going to remember them for life," he said.
A ceremony for the university's professional and graduate students took place later Sunday afternoon.
Copyright 2018 The Lawrence Journal-World. All rights reserved. This material may not be published, broadcast, rewritten or redistributed. We strive to uphold our values for every story published.