It won't be long before Dan Lambert starts packing up 19 years of memories in his Constance Hall office at Baker University.
Shelves full of pictures and other mementos will be taken down sometime after the 65-year-old Baker president gives his final commencement speeches Sunday and when he finishes his official last day on the job June 30.
"Though I don't feel that much older, there comes a time when you understand that you don't have as much energy as a job like this requires," Lambert said. "I think now is a good time for transition."
When Lambert's replacement, Patricia Long, leaves the University of Missouri-Kansas City, where she was vice chancellor, and arrives at Baker, she will find a university taking care of its 148-year past and preparing for the future.
"He's accomplished so much and leaves this place in magnificent shape," Baker Board of Trustees member Chuck Heath said of Lambert.
Since he came to Baker in 1987, several campus buildings have been renovated. The Clarice L. Osborne Memorial Chapel was moved to the campus from Sproxton, England, and in 1996 it was dedicated during an event attended by then-British Prime Minister Margaret Thatcher.
Moreover, under Lambert, Baker opened the School of Professional Graduate Studies in Overland Park and the School of Nursing in Topeka. Currently, Liston Stadium is being upgraded, and there is what Lambert calls a "quiet campaign" to raise money for a new science building.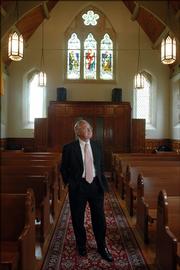 "We have to depend on private funds here. I think that makes us better stewards," Lambert said.
Raising funds is going to be harder in the future for private and public institutions, he said.
Luring more than 3,000 students to Baker University and improving the education they get and the facilities they use requires hiring key people, Lambert said.
"My method has been to hire people who are very good at those things and those people have made all the difference in the world," he said. "There's also always a little luck in having the right people at the right time."
Lambert also commended his wife, Carolyn, for making their tenure at Baker and in Baldwin a success. He described his wife as a very active volunteer for the university.
"Probably the most effective thing I've done is bring my wife here," he said.
Lambert said he was very enthusiastic about his replacement. She doesn't need much advice from him about handling the job, he said.
"She will probably be better at this than I have been, and that's the highest compliment I think anybody can ever pay," he said.
The Lamberts will be moving to Lawrence. They also will spend time visiting grandchildren and other relatives on the East Coast. Dan Lambert also plans to team up with a friend to write a book about the history of private higher education in Kansas. "I don't expect it to be a best-seller, but it's a piece of the history of our state and, I think, of higher education, that needs to be done," he said.
Lambert also is exploring some consulting possibilities as he goes into his last month on the job.
"This has been an absolutely wonderful run for us," he said. "This has been our home, not just a job."
Former Baker trustee Don Parker was on the search committee when Lambert was hired. Nobody had any idea he would stay as long as he did, Parker said.
"We were fearful on several occasions that he might depart for bigger universities and bigger endowments, but fortunately for us on the board and who he had relations with, he stayed," Parker said.
Lambert always related well to students, faculty and others, Parker said. He described Lambert as having a quiet, persuasive manner.
"He's not a home-run hitter; he just does everything well," Parker said.
Heath agreed. Lambert had an ability to put everyone at ease in his presence with his leadership skills, he said. Heath also said he was looking forward to working with Long.
"Change is good," he said. "Dan gave us 19 wonderful years."
Copyright 2018 The Lawrence Journal-World. All rights reserved. This material may not be published, broadcast, rewritten or redistributed. We strive to uphold our values for every story published.