For the first time in his life, Brian Gnojek was facing a dreaded, foreign creature: a "C" in a class.
It happened last semester at the University of Minnesota, where Gnojek, a 2001 Free State High School valedictorian, is now a graduate student in music. He showed up for an orchestra dress rehearsal and found the doors to the concert hall were locked.
"I was one minute late," he said.
He tried to talk his way out of a grade deduction with the professor, but there were no excuses. After all, it was written in the syllabus.
"He just said there's no leeway," Gnojek said.
Like Gnojek, Melissa Colgan, a valedictorian in Lawrence High School's class of 2001, suffered a "C" for the first time in college. Hers came in an organic chemistry class.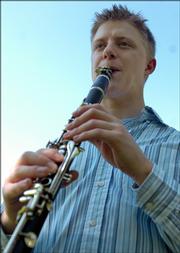 It's a reminder that things can be rocky after high school graduation, even for the brainiest of students. But according to Ralph Keyes, author of "Is there Life After High School?" a fall-on-your face moment like that may be exactly what young people need out of life - especially the valedictorians and class presidents of the world.
"In many ways, the road after high school is much tougher if you've had a big success in high school," Keyes said from his home in Yellow Springs, Ohio. "It's real hard matching that and exceeding that."
Keyes and Richard Farson's 2002 book "Whoever Makes the Most Mistakes Wins" points out examples of famous, successful adults who failed or were mediocre in school. Charlie Ross, valedictorian of his high-school class, later became press secretary for Harry Truman, an undistinguished high-school classmate. Federal Express founder Fred Smith got a "C" for a paper at Yale that outlined his vision for an overnight delivery service.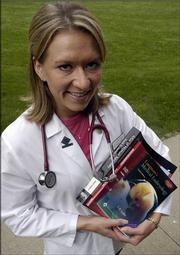 The safe formula that works for succeeding in high school, they argue, doesn't necessarily work in the real world.
"High expectations heaped on young success stories are more hobble than boost," they wrote. "Goads push us harder than rewards."
Colgan's "C" in chemistry was partly responsible for bringing her grade-point average at Kansas State University down to a 3.76. But when applying for medical school, she said, her desire to practice medicine and her wide range of community activities were just as important as her grades.
Her advice to young students graduating this weekend is to get involved in the world - to interview for as many different activities and organizations as possible.
"I think it's just important to not be scared to try," she said.
Where are they now?
The Journal-World caught up with two of the city's high-school valedictorians from 2001. ¢ Free State High School: Brian Gnojek, one of 11 FSHS valedictorians in 2001, is pursuing a master's degree in clarinet performance at the University of Minnesota. He hopes to get a job playing with an orchestra, or possibly teaching at the college level. "It's hard in this kind of business, because getting a job specifically in an orchestra depends on where you can win an audition, and there are very few of them. Whatever you can get, you take." ¢ Lawrence High School: Melissa Colgan, one of five valedictorians at LHS, just finished her first year of medical school at Kansas University. She was involved in a variety of activities as an undergraduate at Kansas State University, including being president of the American Junior Simmental Assn., a beef cattle organization. She plans to go into family practice or pediatrics. "You don't get a weekend when you're in med school," she said. "You can sit at a desk all day and study."
High School Graduation 2006
More about local high school graduations
Free State High School
Lawrence High School
All schools
Copyright 2018 The Lawrence Journal-World. All rights reserved. This material may not be published, broadcast, rewritten or redistributed. We strive to uphold our values for every story published.