Kansas University graduate Toni Argueta will walk down Campanile Hill today with her mother by her side.
"We are going to walk down the hill hand-in-hand," Toni's mother, Pat Argueta, said.
It's not punishment. For the Arguetas, the ceremony marks the completion of a decades-long journey marked by late-night study sessions, the juggling of work and family and school, and the recognition that higher education is within reach for those who put their minds to it.
Pat Argueta, 45, graduates with a bachelor's degree of general studies in psychology. Her daughter receives a doctorate in pharmacy. They will be among 4,500 KU students graduating at 2:30 p.m. today at Memorial Stadium.
"She's shown that you can persevere through a lot of things," Toni Argueta, 24, said of her mother.
It is the end of a journey, but also the beginning of one.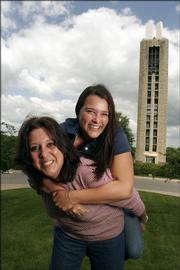 Following high school, Pat Argueta opted to focus on work and family. College wasn't a top priority, she said.
When the family moved to Lawrence in 1985, Argueta went to work at KU. Her husband enrolled at KU.
Argueta wondered what college courses were like.
"I was just kind of curious to see how challenging it was," she said.
She took her first course, a sociology class, alongside her husband in 1986.
KU pays for employees' tuition for one course per semester. Argueta, an accountant in the University Registrar's office, took classes sporadically, picking up courses to improve her writing and management skills.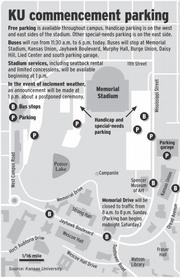 But in 1998, she took on college with a new fervor.
"I said: 'I really want to do this,'" Argueta said. "I enjoyed the challenge."
As a KU staffer, she saw all the students on campus and thought if they could do it, so could she.
Argueta stressed the value of higher education to her own children. And Toni Argueta enrolled in 1999.
Their paths crossed on campus when the two took the same history class.
"It was kind of weird at first," Toni Argueta said.
The mother and daughter pair sat side by side.
They enjoyed the experience and paired up again for popular professor Dennis Dailey's human sexuality course.
Over the years, they've studied together, Pat pushing her daughter at times when Toni felt like taking a break.
When Toni and her friends pulled all-night studying sessions, Pat Argueta brought the group doughnuts and gave them motherly encouragement.
Toni will work at a local pharmacy after graduation. Pat hopes to return to classes in the fall as a graduate student.
And the timing might be good again. Pat's young son, Rio, is a KU student, and he'll be graduating in a few years.
He may have a friend to guide him down Campanile Hill, too.
Copyright 2018 The Lawrence Journal-World. All rights reserved. This material may not be published, broadcast, rewritten or redistributed. We strive to uphold our values for every story published.