Scott Wedman keeps making plans for the future.
Yes, the 19-year-old has cystic fibrosis - and, yes, the typical lifespan for somebody with the disease is only about twice as long as he's already lived.
But Wedman, who graduates today from Lawrence High School, will attend Pittsburg State University in the fall. After that, he plans to be a teacher. And after that - well, he's hoping research into cystic fibrosis will come up with a breakthrough so he can have a lot of "after thats" to come.
"They'll come up with something that will let you live to be 100," he said last week. "They'll be able to claim this disease is a nuisance, rather than a life-threatening disease."
Wedman is one of more than 350 LHS seniors who will graduate at 4:30 p.m. today at Haskell Stadium.
Cystic fibrosis - CF - is a genetic disease; Scott's body produces a thick mucus that clogs his lungs and attacks other organs, making it hard for him to breathe or gain weight. In Scott, the condition is most noticeable because of his scratchy voice and occasional cough while talking.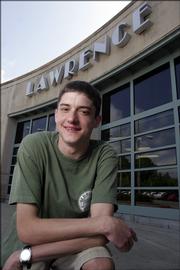 To push his way to a high school degree, then, he has had to be far more disciplined than many teenagers. He gets an hour of breathing treatments before school and another hour before bed. He drinks seven shakes a day to keep his weight up. He takes 60 pills a day.
Wedman has done his best to live a normal teenager's life. Despite the lung disease, he says he likes jogging. In recent years, he's served as manager for LHS' soccer team.
"Everything aside, he's just a wonderful kid," Principal Steve Nilhas said. "I just love him - he's always so upbeat, and I think he's contributed so much to LHS in the three years he's been here."
Scott was diagnosed early. Treatments and surgeries, he said, delayed his start in kindergarten at Wakarusa Valley School. Over the years, the cystic fibrosis has caused him to miss class for extended periods while he was in the hospital.
But teachers have worked with him - the most recent hospital stay was in December - and he graduates today with a 3.6 grade-point average.
"I just think Scott has really shined," said his mother, Linda. "He's put out every bit of effort he could."
Now Wedman will take that effort - and his detailed health routine - to Pitt State.
"I'm a little more nervous than some (graduating seniors) because it'll be the first time, with CF, trying to do this stuff on my own," he said. "But I am looking forward to at least trying it on my own."
High School Graduation 2006
More about local high school graduations
Free State High School
Lawrence High School
All schools
Copyright 2018 The Lawrence Journal-World. All rights reserved. This material may not be published, broadcast, rewritten or redistributed. We strive to uphold our values for every story published.