After what happened Friday, Mary Chapman has been thinking a lot about going to Italy.
"I had a great experience there two years ago, studying Dante," said Chapman. "I yearn to return."
Chapman, who's taught English in the Lawrence school district for the past 21 years, was presented with the Lawrence Schools Foundation's 2006 Bobs' Award during a surprise ceremony Friday at Free State High School.
The award includes a check for $10,000.
"It presents me with an opportunity to do more study in Italy," Chapman said.
"I'm very grateful for the generosity and the selflessness of the anonymous supporters of education who made this happen."
The Bobs' Award is named for several benefactors who share the same first name. The group's members prefer anonymity.
Each year, the Bobs' Award is presented to a Lawrence teacher who is proficient, caring, adaptable and professional.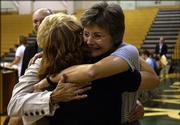 "I have taught with Mary for 20 years, and she is the hardest working educator I have ever encountered," said Phyllis Copt, who also teaches English at Free State.
"She develops inspiring ideas, makes fascinating connections and shares her brilliance generously," Copt said.
In Lawrence, Chapman has taught for 10 years at West Junior High, two years at Lawrence High School and nine years at Free State. Earlier, she taught for eight years in the Haysville, Chanute and Salina school systems.
Her courses have included sophomore, junior and senior English; American literature; science fiction; and classic literature.
"She not only opened my mind to a new way of learning, but a new way of thinking," Free State student Monica Gonzalez said in a statement issued by the school district.
"Thanks to Ms. Chapman's dedication and enthusiasm, I have come to appreciate an entire genre of literature that I had previously found to be mind-numbing and uninteresting," Gonzalez said.
Chapman wasn't completely comfortable with her selection.
"There are a lot of fabulous teachers in the district who deserve this (award) and more, so I'm a little uncomfortable with my being selected," she said. "But, still, I'm honored."
Chapman has announced her intent to retire at the end of the current school year.
Lawrence Schools Foundation is a charitable organization committed to enhancing the education provided to all students by Lawrence public schools.
Copyright 2018 The Lawrence Journal-World. All rights reserved. This material may not be published, broadcast, rewritten or redistributed. We strive to uphold our values for every story published.