The Lawrence police chief and a husband-and-wife team were recognized Thursday as this year's Substantial Citizen Award recipients by the Lawrence Kiwanis Club.
Ron Olin, the city's police chief since 1987, and Donna and Wayne Osness received the awards because of their vocational dedication and community involvement through the years, Kiwanis members said.
"Normally we only give out two awards, but Donna and Wayne have both been so involved," Kiwanis member Harold Jones said.
"It was very much a surprise," Donna Osness said of receiving the honor.
The Osnesses said they were pleased to be recognized by the club, as did Olin.
"I'm just humbled and honored," Olin said.
Kiwanis member Rusty Thomas said Olin was "most deserving" of the award.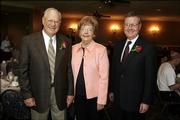 "He's so quiet in what he does, people don't know about him," she said.
Wayne Osness taught physical education and physiology at Kansas University from 1966 until he retired in 2002. He also was director of the KU Fitness Evaluation Clinic for 20 years. He has served on the U.S. Olympic Committee as well as many other boards and committees.
Wayne Osness is on the Baker University Board of Trustees and has earned numerous awards over the years.
Donna Osness was a nurse for several years and was principal of Riverside School. In 1998 she was named Kansas Distinguished Principal.
Donna Osness has served on the Lawrence Memorial Hospital Board of Trustees for several years and is the board's chairwoman. She, too, has earned several awards and recognitions over the years.
Since 1960 the Lawrence Kiwanis have recognized 80 people with the Substantial Citizen Award.
Copyright 2018 The Lawrence Journal-World. All rights reserved. This material may not be published, broadcast, rewritten or redistributed. We strive to uphold our values for every story published.