Free State High baseball coach Mike Hill is looking forward to his fourth consecutive trip to the state tournament, and he said only one thing could have made the trip more enjoyable: if cross-town rival Lawrence High had been among the eight teams to make it.
"I know this is a very intense rivalry for some, but the Lawrence High baseball team doesn't have a bigger fan than me, except two nights a year," Hill said.
LHS head coach Brad Stoll and assistant Adam Green used to be assistants for Hill at Free State and but for one rough inning could be joining him next weekend.
"I know it's no consolation to anybody right now, but they're building something special there," said Hill, a graduate of Lawrence High, winner of 100 state titles.
Such cross-pollination, also evident among players who were classmates in junior high and teammates in youth leagues, makes the intracity rivalry a friendly one more of mutual respect than antipathy in the eyes of most involved in it.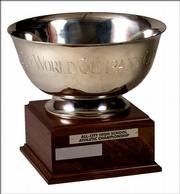 The rivalry, in its ninth year, took on a little extra spice this school year with the Journal-World's tracking of head-to-head matchups. Free State won the first World Company Cup by a margin of 17-10 and will be presented with the hardware at 10:30 this morning at Haskell Stadium, where the seniors will assemble for graduation practice.
LHS held an 8-4 lead in the Cup standings before Free State, buoyed in part by an exceptionally strong senior class of boys and girls athletes in winter and spring sports, was awarded 13 of the final 15 points. The Cup will be on display in the trophy case at Free State High and will remain there until the first year that LHS finishes ahead of Free State in the Cup standings.
"We think we run a pretty good program," athletic director Steve Grant said. "We have great, hard-working coaches and athletes. Both schools are competitive in the Sunflower League, which is a tough league, and it's nice that we can be recognized for winning the cross-town rivalry."
2005-06 Journal-World Cup
2005-06 Journal-World Cup
Standings
LHS: 10
Free State: 17
LHS varsity wins: 10
Free State varsity wins: 17
Note: The girls track and field teams recorded a tie during the Sunflower League meet.
Copyright 2018 The Lawrence Journal-World. All rights reserved. This material may not be published, broadcast, rewritten or redistributed. We strive to uphold our values for every story published.