Justin Gatlin is the world's fastest man these days, tying the world record in the 100-meter dash less than a month after getting his neck, middle back and lower back adjusted by a Lawrence chiropractor.
Michael Stuart, owner of Stuart Chiropractic Health Center, worked on Gatlin, Maurice Greene and a lineup of other world-class sprinters, hurdlers and other track superstars during last month's Kansas Relays.
Stuart landed the opportunity by virtue of his sponsorship of the Relays and introductions provided by meet director Tim Weaver, but the execution of treatments - from electric muscle stimulation to inter-segmental traction and various back adjustments and sports stretches - was all Stuart.
"These athletes, their body is everything, and getting it to perform at a high level is everything," said Weaver, a former track athlete who has been seeing Stuart himself for about a year. "They've taken their bodies to extremes and are doing things on the edge of what evolution is meant to do here in 2006. They're constantly looking for things to keep their bodies moving, and this is another way to keep that engine fine-tuned."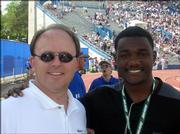 Stuart's work started when Greene requested a session at the Lawrence Holidome. Then word started to spread among other professional athletes that the complimentary assistance was paying off.
"They liked him so much they brought him back the next day," Weaver said. "He's working on once and future world-record holders, and that's of great value to the meet. It gives us the added respect, that the Kansas Relays takes better care of superstars than any other meet in the U.S."
Elite athletes have their own medical support teams at their home bases, and often rely on local professionals to help on the road, Weaver said. But with international meets expected to begin soon, Greene himself inquired about whether Stuart would be willing to travel.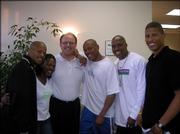 "Mo says, 'If we called you with a money figure, would you fly overseas?' And he gave me his cell number," Stuart said. "I'm, like, 'Sure!' : My passport's ready. All I have to do is get the green light. I'll pack up my equipment and go."
Stuart hasn't gotten the call yet, but he's already satisfied that he was given the opportunity to work with the athletes. A poster in the office carries a Greene autograph and note ("...thanks for making me feel so good") and a companion passage ("You're great!") from Angela Williams, a four-time NCAA champion and two-time world indoor silver medalist, who received a variety of treatments and adjustments from Stuart during the Relays.
Weaver is counting on the good vibes paying off for the Relays, as the elite athletes speak kindly of Stuart, the meet and community during their travels on the track circuit.
"It's another shot in the arm for Lawrence, Kansas," Weaver said.
Copyright 2018 The Lawrence Journal-World. All rights reserved. This material may not be published, broadcast, rewritten or redistributed. We strive to uphold our values for every story published.