Mother's Day on Mass Street was a memorable one for one particular McLouth mom.
Nancy Smelser received quite a gift from her son Mark Smelser - a collegiate cycling national championship.
Mark, a junior at Kansas State, came out of the middle of the pack on the final lap of the criterium in the USA Cycling Collegiate Road Nationals to bring a national championship to the state of Kansas.
"It's weird, because this season I wasn't training for a nationals victory," said Mark, who finished fifth in the road race on Saturday. "This is just one of those things that I, myself, wouldn't expect. ... I had amazing legs this weekend at just the perfect moments, and stuff worked."
Mark's overwhelmed mother was fighting back tears as she was on a cell phone, calling just about everyone she knew.
"It's hard to describe," Nancy said. "He told me before the race he was going to give me this for Mother's Day, and I said, 'OK, fine.' And he really did it. So he's a winner every day, for us."
Photo Gallery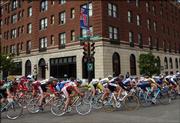 USA Cycling Collegiate Championship
A few McLouth residents were on hand as volunteers, which gave Mark the feeling of a true home-field advantage.
Mark finished two points behind the University of Virginia's Mark Hardman for the men's individual omnium, or overall, title.
"It's huge for him, for our little town," Nancy said. "He worked hard when he was in high school. Everybody in Jefferson County knew to look out for Mark on his bike. ... They've cheered him the whole time that he's been out at K-State on the team, too."
Mark's father, Allen Smelser, said Mother's Day wouldn't be the only holiday that the championship would be considered a gift.
"I think that goes over to Father's Day, as well," Allen said. "Christmas, birthdays and so on."
Nancy said McLouth concentrates more on football than cycling, having had a Jeff Schwinn Day for the former KSU quarterback a few years back.
More on the Collegiate Cycling Championship
"Maybe we'll have a Mark Smelser Day. Who knows?" Nancy said.
Mark said it would be interesting when he gets back to Manhattan to see the reaction of his friends at college.
"I've just got to try not to let my head get too big," Mark said with a tired laugh.
Kansas University's Kim Kissing said she was overjoyed to see Mark cross the line in first while she was warming up to participate in the women's criterium.
"I've seen him race this whole season, and I know he's a great guy, and he really tries really hard, and I'm so happy that he won," Kissing said. "He's not a pro-level athlete, but he can still win something like this, so it's really amazing."
The day after a case of bumper bikes, Kissing attempted to race in the criterium. However, the lone KU female rider had to bow out less than halfway through the race.
"I think it's still a little sore and tired from (Saturday)," Kissing said of her body after her short time on the course. "I don't think it was close enough to par, I think, today. I would have liked to stay with the group a little better, but I was just feeling kind of bad, so it didn't work as well."
There was still no confirmation where the women injured in the accident at Lake Perry on Saturday were transported. Jessica Reyes of USA Cycling said she thought no riders were in critical condition.
Rebecca Larson of Florida claimed first in the D-I women's criterium and clinched the individual omnium after winning the tie-breaker, having finished second in the road race.
The University of California-Davis took the team title for the weekend with 531 points. Fort Lewis College (409) and the University of Colorado (404) rounded out the top three.
KU's efforts put it at 32nd place out of the 47 D-I schools participating.
In Division II, Whitman College's Mara Abbott finished off a sweep of the individual events this weekend to claim the individual omnium title. In doing so, she propelled Whitman College past Lees-McRae College for the team title.
Lees-McRae, located in Banner Elk, N.C., took home three individual national championships. After Brent Bookwalter's first-place finish in the road race, Scott Jackson took the criterium and omnium titles.
Copyright 2018 The Lawrence Journal-World. All rights reserved. This material may not be published, broadcast, rewritten or redistributed. We strive to uphold our values for every story published.