The pressures of the USA Cycling Collegiate Road Nationals didn't get to a group of riders fresh to the prestigious event.
For the newbies, the weekend started with a team time trial on the South Lawrence Trafficway, and in no way did they disappoint their more seasoned teammates.
At least, that was the case for the Division I women's and men's winners Friday.
The University of California-Davis women's team added two newcomers - Linnea Nasman and Amanda Seigle - to a group that included Marisa McAdler and Amy Mackey that had finished ninth in the team time trials in last year's Nationals.
"I was worried. I was really nervous last night," Nasman said. "A couple of us had nightmares. My nightmare was that we missed our start by, like, 10 minutes, and the judge was horrified and angry. And it was my fault because of my bike. So it was just horrible.
"But then to get here, to get to the start line way ahead of time, have everyone helping us out : we were just ready to go. And to have everyone being so supportive, especially for me and Amanda this being our first time : I was nervous, but I kind of knew that we could all take care of each other. Sounds kind of corny."
UC-Davis finished at 40:25.7, 14 seconds ahead of runner-up Midwestern State.
Photo Gallery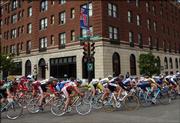 USA Cycling Collegiate Championship
The Fort Lewis College (Colo.) men's squad had more cushion after its time of 33:04.2, beating the University of Colorado by nearly 40 seconds.
The Durango, Colo., college had a newcomer in Johnny Hayes, who was taking over for Dan Bowman from the defending champion time trial team that consisted of returnees Chris Kuhl, Matt Shriver and Troy Wells.
"It's just a pleasure coming back and working with them and trying to fill the shoes and being national champs two times in a row," Hayes said. "It's just great to be a part of a winning team."
Hayes and Kuhl already had a strong rapport, having raced on the same national team over the summer.
"Johnny's a really smart guy," Kuhl said. "Me and him had trained together, so he mixed right in with all the guys."
The Fort Lewis women finished third, as did the UC-Davis men, locking the two schools into a first-place tie after day one.
The Kansas University men's squad placed 18th with a time of 36:58.3.
"It's just a phenomenal feeling," KU's Jason Knight said. "I mean, it's just really cool to know that you're in a national-caliber event. Just the level of support here from the city and then from all the community people, it's just phenomenal. It's a great feeling to be in the race on K-10, in the lane where the cars normally are, is pretty cool."
The KU women's team clocked in at 51:19.15 - last of the 16 D-I women's teams.
The Road Nationals will continue today with the individual road race at Lake Perry. The Division I women's group will start the day at 8 a.m. for their 56.4 mile race.
The D-I men's participants will get under way at 11:30 in a 84.6-mile, three-lap race around the lake.
Copyright 2018 The Lawrence Journal-World. All rights reserved. This material may not be published, broadcast, rewritten or redistributed. We strive to uphold our values for every story published.