Collegiate cyclists raced by downtown shops in a blur Sunday, a speeding sight for dedicated bike enthusiasts and passersby alike.
The cyclists - all Division I and II student-athletes from more than 60 schools - raced through a mile-long downtown course as part of the 2006 Collegiate Road National Championships.
By midmorning, the hotly contested Men's Division I individual championship was in full swing, and, for those who couldn't see, the voices of three announcers boomed over loudspeakers.
"Everything is going absolutely nuts here!" a voice yelled.
And for the racers, life on downtown streets must have been a little chaotic, with speedy bikes weaving back and forth between one another like so much NASCAR drafting.
Photo Gallery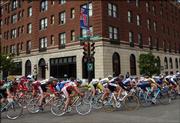 USA Cycling Collegiate Championship
By the end of the day, four riders had been taken by ambulance to Lawrence Memorial Hospital with a variety of road-related injuries - nothing serious though, Lawrence-Douglas County Fire & Medical Division Chief Jerry Karr said.
Life was less hectic for onlookers watching the more than 400 cyclists do lap after lap around downtown.
Those watching and cheering closest were, for the most part, family and friends of the riders coming in for the biggest road bike race of the year.
Beth Ericksen drove the nine-plus hours from Chicago to cheer on her brother, Russ, a Boston College rider currently circling the streets somewhere in the middle of the pack.
More on the Collegiate Cycling Championship
"I just come to the nationals," Ericksen said, explaining why she drove to Lawrence.
She was about to say something else, but the low hum of the pace motorcycle meant that the bikers were coming back around.
So Ericksen and her family, like many of the traveling supporters there, leaned into the white barricades separating the riders from the watchers and yelled, slapped sponsors' posters, rang cowbells and generally made a ruckus whenever the riders passed.
But that scene wasn't duplicated at other parts of the track. In fact, for most of the day, the portions of the track not directly behind or in front of the finish line stood fairly bare.
Volunteer organizer Doug Vance said he thought a good contingent of Lawrence race fans showed up Sunday, although he said attendance waxed and waned throughout the day.
"We didn't survey where people were from, but I did see a lot of people from Lawrence," Vance said. "It's not a sport that's as well-known in the area, but we're hoping it will grow."
This was the second year for the downtown event, and each year has brought a new set of challenges. Last year, rain dampened the Friday event, and some downtown merchants and shoppers frowned on downtown being shut down for hours.
This year, an early Sunday start - and the Mother's Day holiday to boot - may have kept some folks away.
Amber Ashbrook understood it. Standing outside of Milton's, 920 Mass., waiting for breakfast, Ashbrook noticed the lack of local faces.
"There should probably be more Lawrence people here," Ashbrook said. "I didn't know the bike races were here until last night. Then, I didn't care."
It's too bad, Ashbrook said, that the sport doesn't get as much publicity or interest as basketball or football.
But organizers think that will change. The event will be back again next year for sure, and the Lawrence Sports Corp. will lobby to host the event for the next five years.
Which could be exciting news for new fans like Trenton Wilson. The Kansas University student stumbled across the race Sunday, then stood glued to the track, watching the bikes blur past.
"It's cool to see this many bikes up and down Mass," Wilson said. "It sort of sucked me in."
Copyright 2017 The Lawrence Journal-World. All rights reserved. This material may not be published, broadcast, rewritten or redistributed. We strive to uphold our values for every story published.