Photo Gallery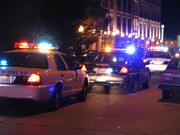 Last Call incident
Police responded to a suspected shooting at a Lawrence nightclub at around 2 a.m. Sunday. According to Sgt. Dan Hubbel, at 2 a.m. a Lawrence police officer heard gun shots come from the inside of Last Call as he was driving at the 700 block of New Hampshire.
Sgt. Hubbel said several shots were fired inside the nightclub and several shell casings were found inside. No injuries were reported.
Officers blocked off the 700 block of New Hampshire Street and parking lots adjacent to the bar for a period of time after the shots occurred.
Sgt. Hubbel said there are no suspects and no arrests at this time.
Last Call
Copyright 2018 The Lawrence Journal-World. All rights reserved. This material may not be published, broadcast, rewritten or redistributed. We strive to uphold our values for every story published.