Billy Baker is home.
Billy, the 15-year-old blind and autistic boy injured last month in an accident caused partly by a notorious road bump in North Lawrence, was released from Children's Mercy Hospital in late April. He's now recuperating in a wheelchair at his grandparents' home on Perry Street, with four rods in his injured right leg and a bandage still covering the area where he had a skin graft.
Doctors say it could be six months to a year before he's able to walk again. It's a big change for a boy who used to swim 750 yards twice a week and could ride a bicycle despite being legally blind.
"He's handling it pretty good, really. He doesn't realize that he got hit," said his grandfather, Coye Baker. "All he says is that he got an ouchie."
Coye Baker said doctors told him that Billy also lost hearing in one ear and may have developed a heart murmur because of the wreck.
So far, the family's medical bills from Billy's nearly four-week stay at Children's Mercy Hospital in Kansas City, Mo., total more than $150,000. That doesn't include more than $6,000 for an emergency helicopter flight.
Billy and his father, Doug, were walking on the east side of North Second Street on April 1 when a trailer separated from a northbound Toyota and struck Billy. The vehicle, driven by 37-year-old John D. Olmstead of Lawrence, had just crossed a bump in the road that has long been the source of neighborhood complaints.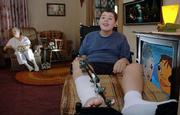 "I know it wouldn't have happened if that bump hadn't have been there," Olmstead said. "I heard a loud pop, and I looked back and saw it come off. There was nothing I could do at that point."
Coye Baker said he doesn't think the trailer was properly hitched. Olmstead said he'd heard the same thing from police but hadn't heard whether he would be cited or charged with any violations.
The wreck caused the city to put a temporary fix in the road to smooth the bump. The state and city have said they still plan to overhaul the intersection, a process that initially was scheduled for October 2007 but might happen sooner.
At Central Junior High School and Woodlawn School, students and employees have been gathering money to help the Baker family. Billy's family members said the issue of the medical bills is on hold for now and that the main priority is to get him rehabilitated.
"All we care about is his leg getting well," grandmother Reba Baker said.
Copyright 2018 The Lawrence Journal-World. All rights reserved. This material may not be published, broadcast, rewritten or redistributed. We strive to uphold our values for every story published.