City commissioners approved a new retail area at Sixth Street and the South Lawrence Trafficway on Tuesday, but not before clashing over whether it would damage downtown.
Commissioners on a 3-2 vote approved a project by a group of longtime Lawrence developers that would add nearly 185,000 square feet of retail space to the northeast corner of the intersection.
But commissioners David Schauner and Mike Rundle said they strongly opposed the project because they feared it would help create a glut of retail space that would cause other existing retail areas to become vacant and blighted.
And the city's prized downtown, they said, wouldn't be immune.
"I know there are commissioners who believe that the marketplace should control the situation," Schauner said. "But there will be a winner and loser in the marketplace, and I know one of our commission goals is to protect downtown.
"I want to make sure that anything we do first does no harm to the goal we have of protecting downtown."
Developers said they were confident it would not. The development group includes members of the Fritzel family, which has several downtown developments and is vying to create a $150 million public-private partnership to build a new downtown library, retail and residential development.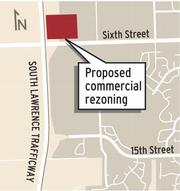 "This is going to be a great project, and it is not going to compete with downtown," said Tim Fritzel, who is part of the development group that also includes Thomas Fritzel, Duane Schwada and Steve Schwada.
Instead, the developers said they were proposing exactly what city planners have called for at that intersection since 1997 when the Northwest Area Plan was created. Ultimately, a majority of city commissioners agreed.
"They have come forward based on the plans of this body, and they have followed those plans," Mayor Mike Amyx said.
Amyx and supporters of the project also pointed to a city-hired consultant who in January issued a report concluding that Lawrence was losing a larger-than-average number of shoppers to other communities, and that the city could safely absorb significant amounts of new retail development.
"That study provided some accurate and important information about our community's unmet retail needs," City Commissioner Sue Hack said.
But the study likely will become the focus of debate in the near future, as both Schauner and Rundle said they questioned its findings. In particular, they said they thought the consultant may have been too aggressive in projecting future population gains for the city and calculating the buying power of its residents.
And City Commissioner Boog Highberger, who voted for the development, said he also wanted to review the study in more detail. He said he voted for the new development Tuesday night because commissioners still had the ability - through the approval of the project's preliminary development plan - to order the project to be built in phases.
Developers haven't yet submitted specific plans that show what type of stores the project may have. But the rezonings would allow for a big-box tenant of up to 175,000 square feet. In fact, the zoning requires that the project have one store that is at least 40,000 square feet as an anchor tenant.
In addition to the retail development, the project also will have significant amounts of housing. The rezonings call for up to 75 single-family homes and 36 duplexes, and could allow approximately 600 apartment units, though some of that portion of the project also could be required to be used for office development.
More data wanted in Naismith Drive decision
City commissioners Tuesday night agreed that they needed more information before deciding whether to make any changes to the configuration of Naismith Drive.
Commissioners had been asked to consider changing the northbound section of Naismith from 23rd to 19th streets from two lanes to one, with the extra space turned into a bike lane.
But the road would need to operate as a two-lane road on Kansas University game days. Commissioners directed staff members to talk with KU leaders about the idea. They also asked the Lawrence-Douglas County Bicycle Advisory Committee for a recommendation, and asked residents in the area to have a neighborhood meeting about the idea.
Consultant could look at Peterson Road changes
City commissioners are interested in hiring an engineering firm to help them determine how to extend Peterson Road westward.
Commissioners told staff members to start preparing a request for proposals that would allow the city to hire a consultant to find a feasible way to extend the road that is expected to be an important east-west corridor as more growth occurs in the northwest area of the city.
A route going straight west has been opposed in the past because it would go through a large parkland area.
Sewer upgrade advances
A key project in ensuring that the city has adequate sewer capacity to handle projected growth is moving along. Commissioners approved a $1.8 million contract to improve a pump station near Sixth and Kentucky streets. The project is expected to be completed by March 2007.
Commissioners question wireless tower request
City commissioners aren't ready to let a wireless telephone company begin planning for a new wireless telephone tower along Harper Avenue.
Commissioners told T-Mobile that they wanted to see documentation that another privately owned tower in the area wouldn't meet the company's needs before it allowed a 120-foot tower to be built at the city's fire station at 2100 Harper Ave. T-Mobile has proposed to pay the city $1,000 per month to locate the tower on the property.
The city did allow Sprint to move forward with a $1,700-per-month lease to place wireless telephone equipment on the water tower adjacent to the fire station.
Commissioners did not give final approval for Lawrence Freenet, a nonprofit Internet provider, to place wireless equipment on the tower for free. Commissioners said they wanted to meet with Freenet to ensure the company was still meeting its goal of providing Internet service to low-income residents.
Copyright 2018 The Lawrence Journal-World. All rights reserved. This material may not be published, broadcast, rewritten or redistributed. We strive to uphold our values for every story published.