Bill Self's Kansas University basketball team has added Darrell Arthur, Sherron Collins and Brady Morningstar, and subtracted Jeff Hawkins, Christian Moody, and Stephen Vinson.
The incoming class is far more athletic than the outgoing one and gives Self even more lineup flexibility than he had last year, when the Jayhawks were Big 12 regular season co-champions, Big 12 tournament champs, and already one of the most athletic teams in the country.
Self, if he so chose, could go with an extremely small lineup or a freakishly tall one and still have a better team on the floor than most of the ones KU will face.
Most of Self's lineups will be somewhere in between, but just for fun, here's a look at combinations that will take the floor, and others Self could use if he wanted to get really creative:
Returning Starters
PG: Russell Robinson
2G: Mario Chalmers
SF: Brandon Rush
PF: Julian Wright
C: Sasha Kaun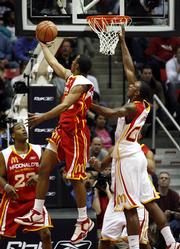 Average Height: 6-foot-51â2
Comment: This is the safest guess as to what five players will take the floor when KU opens its season in November. But as last season proved, the starting five at the beginning of the season can look a lot different from the one at the end. C.J. Giles and Hawkins began the season as starters and finished it coming off the bench, supplanted by Chalmers and Wright. This lineup jelled well for the Jayhawks late in the season and Robinson took on a leadership role, but what it lacked was a clear-cut go-to scorer late in games.
NBA first-rounders
PG: Sherron Collins
2G: Chalmers
SF: Rush
PF: Wright
C: Darrell Arthur
Average Height: 6-foot-5
Comment: It's difficult for sub-6-footers to make it in the NBA, but talent evaluators are convinced Collins is that special a talent. He's quick, strong, bold and creates space for himself with an amazing handle. By the time Arthur has been toughened up by banging against Kaun and Darnell Jackson in practice, this could be the starting five with one possible wrinkle: Russell Robinson at the point instead of Collins. Either way, this lineup would have the feel of Villanova's the past two years, in terms of style of play and size, with not quite as much three-point shooting and more production from the interior players.
More on KU basketball recruit Darrell Arthur
Burners
PG: Collins
2G: Chalmers
SF: Robinson
PF: Rush
C: Arthur
Average Height: 6-foot-3
Comment: Stanley Redwine would love this team of sprinters. It's possible these five never will see the floor at the same time, but if they did, it would be difficult to imagine a team that can run the floor faster ever has been assembled. The downside: If teams could get the ball past the trapping guards, they could exploit the lack of bulk. The defensive pressure this lineup could apply would be considerable. With the front-court depth KU has, though, they won't ever have to resort to using Rush at power forward. A more likely lineup at times: Replace Rush with Wright at power forward.
22nd Century lineup
PG: Wright
2G: Rush
SF: Arthur
PF: Giles
C: Kaun
Average Height: : 6-foot-9
Comment: Defending the backcourt and handling the ball without turning it over would be the factors that would keep Self from unleashing this futuristic lineup on the basketball world, but it would be a huge team that could get up and down the floor quickly, block a ton of shots, and ignite the crowd with monster dunks. Wright, if he continues to tighten his ballhandling and tames his hyperactive nature, could handle the point because of his superb passing skills. No need to play him there on this team. Collins, Robinson and Chalmers make better point guards.
With so much talent competing for 200 minutes of playing time and the rules stipulating only five players can be used at one time, the competition for minutes could make practices, closed to the public, even more entertaining than some of the games.
Copyright 2018 The Lawrence Journal-World. All rights reserved. This material may not be published, broadcast, rewritten or redistributed. We strive to uphold our values for every story published.