The Lawrence High girls soccer team looks to be in good hands next season.
Though the Lions will lose eight seniors, the promising future was on display Tuesday night at the Youth Sports Inc. fields as two freshmen and a sophomore led LHS to a 2-0 win over Shawnee Mission South.
"The future bodes well," coach Matt Anderson said. "If they continue to improve exponentially, they are going to be fantastic to watch in the future."
The future was the present Tuesday. In the 29th minute of the first half, freshman Megan Andrews broke in on SMS goalie Melissa Schwabauer. At first, Schwabauer thought about coming out to play the ball and trying to get it before Andrews could get a shot off, but she decided to stay back at the net. Andrews made her pay, riffling a shot that just snuck in below the cross bar to give LHS a 1-0 lead.
"Becky Davis gave me a great assist right through all of the players," Andrews said. "I got it and I just took a shot. I didn't really even think about it. I just shot it."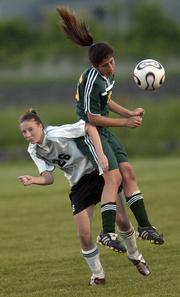 That score help up for the rest of the half thanks in large part to another freshman, LHS goalie Emma Lumpe. Lumpe made several sprawling saves, most of which were made with plenty of traffic around her in the box.
"They were really good at pressuring the goal and getting people in there," Lumpe said. "I had to just get on it and pull it in and make sure they didn't tap it in."
LHS added to its lead early in the second half when sophomore Madison Bertrand scored to make it 2-0. SMS argued that Bertrand was offsides on the play, but no call was made and the goal stood.
The Lions were playing with a new offensive formation that Anderson installed only 20 minutes before the game. The 4-4-3 setup was designed to put more pressure in the offensive zone and create more odd-man rushes for the Lions.
"I wanted to give them a chance to have a little bit of fun up front," Anderson said. "The first eight games of the season we were completely defensive-minded. We put in a short passing set for the next four, and now we're putting in a combination of all three and sending more balls long."
The Lions (5-8-2) will host Topeka High on Friday on Senior Night.
Copyright 2018 The Lawrence Journal-World. All rights reserved. This material may not be published, broadcast, rewritten or redistributed. We strive to uphold our values for every story published.