Dazed and confused hours after postponing a news conference to announce his college choice, a weary Darrell Arthur fell into a deep sleep late Monday night.
The 6-foot-9, 220-pound McDonald's All-America forward from Dallas' South Oak Cliff High woke refreshed Tuesday morning suddenly realizing where he wanted to attend college, thanks to one memorable, vivid dream.
"It was me playing in a (Kansas University) uniform in a game with all the players - Mario (Chalmers), Julian (Wright) and Brandon (Rush)," said Arthur.
He figured visualizing about KU, instead of finalists Baylor and LSU, was a sign from above, Arthur indicating he "prayed hard" before going to bed.
"In the dream, it just seemed like the right school," he added in a phone interview held minutes after Tuesday's noon press session on his grandmother's front porch in Dallas - where he signed a national letter of intent with KU.
Arthur, who said, "yesterday I would have signed with Baylor," had he held a previously scheduled noon news conference - putting off the session 24 hours to further discuss his options with his mom and grandmom - felt he needed to visit with KU coach Bill Self one final time before fully trusting his dream.
Thus he phoned Self at 10:45 a.m. Tuesday.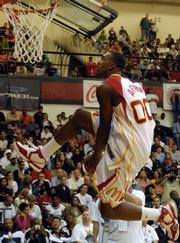 "I thought he was calling to tell me he was going to a different school," Self said. "I said, 'Have you made a decision?' He said, 'No, we are talking about it now. I'm calling coaches to answer any last-second questions.' When I hung up," Self added, "I didn't know where he was going to school."
Arthur asked Self if he was the type of coach who would push him hard in college, just like his high school coach, James Mays, whose tutoring helped Arthur earn two MVP honors at the state tournament the past two years at state champ South Oak Cliff.
"At the McDonald's game, St. Benedict's coach (Danny Hurley) told me I needed a coach who would stay on me. Coach Self is that coach,'' Arthur said. "He will push me and make me the player I can be."
That type player is an NBA player, Arthur indicating he'll play for KU "as long as it takes, probably one or two years" to be prepared for the pro level.
An hour and a half after speaking with Self, Arthur grasped his cell phone and sent a text message to the Jayhawk mentor, who had just left the podium after giving a speech on behalf of Big Brothers/Big Sisters at Maceli's Restaurant - 10th and New Hampshire.
Self, who noticed the name "Shady" (as in Arthur's nickname, 'Slim Shady') on his phone clicked a button and read the message, "I'm going to Kansas!"
A giddy Self left the restaurant and 'texted' Arthur back and also Arthur's mom, Sandra.
More on KU basketball recruit Darrell Arthur
"He was the happiest coach," Arthur said.
Self didn't speak again with Arthur until about 3 p.m. when Self's cell phone clanged in his Parrott Athletic Complex office.
"Shady ... how you doin'? You OK man?''' Self bellowed, leaving his desk to chat with KU's newest player in an adjacent hallway.
Upon his return, Self was beaming, not just because he landed a power forward he ranks the "best we ever recruited," but because he didn't think the Jayhawks would win the recruiting battle.
Arthur, a friend of Keith Langford who attended Late Night With Roy Williams when he was in junior high, also was in the Allen Fieldhouse stands for Late Night in the Phog last October.
Yet Arthur didn't sign in November, prolonging his recruiting until the spring signing period.
"It feels sweet now because we felt we were not going to get him," Self said. "When he didn't sign early we felt, 'Oh geez we did all we could do and he still hasn't made a decision.' Other people came in late and we were still able to get him."
Indiana and Texas were KU's main competitors during the early signing period; Baylor and LSU the past month or so.
"LSU was hot," Self said. "They go to the FInal Four, lose a guy playing the same position (freshman Tyrus Thomas), who some are calling a top-three pick. Shady could slide in there and play next to 'Big Baby' (Glen Davis). They had a lot to sell. Baylor was there from the get-go."
As happy as Self was Tuesday, Baylor's coaches had to be stunned realizing the Bears on Monday were the choice of rivals.com's No. 16-rated player and No. 3 power forward.
"It was a real hard decision. Kansas is known as a basketball school," Arthur said. "Baylor is an up-and-coming program and I like the coaching staff. But I had concerns about how good we'd be at Baylor. I didn't know how far we'd get in the NCAA Tournament or if we'd go to the NCAA Tournament. Kansas has a lot of good players and I want to help them win a national championship."
Arthur's mom, who was heartbroken the news conference was canceled Monday - "I was sick to my stomach; I wanted to go ahead and get it over with," Sandra said - nonetheless was delighted a day later.
"I'm crazy about the coaches," she said of KU's coaches. "But it was hard. I also like coach (Scott) Drew at Baylor and that whole family staff. Everybody was great. That's why the decision was so hard to make."
She admitted she was a bit surprised her son chose to attend school out of state.
"For one thing, he always wanted to live in Texas," Sandra said. "I thought, 'Well maybe it's best to pick a school in Texas.' But it didn't turn out that way. It was difficult on him. I don't think he really got an answer until last night. He said he prayed and prayed. He said he kept dreaming all night. And Kansas kept popping in his head all night. That prompted to him to go ahead and pick Kansas."
A decision that had Arthur content Tuesday.
"I'll sleep well tonight," he said.
Dreams often deliver in big ways once the sun comes up
Darrell Arthur said he made Kansas University his college choice in response to a dream in the wee hours of Tuesday morning in which he was playing in a game for KU in full uniform.
Here, thanks to this week's fascinating article in "U.S. News and World Report" is a list of other individuals who made crucial decisions based on dreams:
Author Mary Shelley dreamed of the monster Frankenstein before she created him on paper. In her 1816 dream she pictured a "hideous phantism of a man stretched out and a scientist using a machine to bring him to life." She wrote the next day.
Beatle Paul McCartney woke up with the melody of the song, "Yesterday," in his head. He raced to the piano and began playing the melody. He later said, "Because I dreamed it, I couldn't believe I'd written it. The song holds the Guinness world record for most recorded versions (1,600).
Mired in a slump, golfer Jack Nicklaus one night during the 1964 Cleveland Open dreamed he was using a different grip. He tried it the next day, shot 68-65 and tied for third overall after opening with a 76. The grip stayed and he had a monster season. Nicklaus at the tourney told reporters he was embarrassed to admit where he picked up the new grip.
In the Bible, Joseph was crushed after learning Mary was pregnant during their engagement. He was ready to abandon her fearing she committed adultery. In a dream, an angel visited him, told him to not be afraid, that she had conceived through the Holy Spirit and would bear a special child. It shaped the rest of Joseph's life, said Fr. Gerald Kleba, who wrote the historical novel, "Joseph Remembered."
Iraq dictator Saddam Hussein in the 1980s dreamed the Iranians would launch an offensive through a large marshland. He ordered more troops there to the dismay of his generals. The Iranians did attack and the Iraqis prevailed. Hussein used dreams to base many other decisions.
Source: U.S. News & World Report
Copyright 2018 The Lawrence Journal-World. All rights reserved. This material may not be published, broadcast, rewritten or redistributed. We strive to uphold our values for every story published.