An offshoot of Kansas University's Society of Open-Minded Atheists and Agnostics has sprung up in the red state of Idaho.
"We're seeing a positive branching out of our organization," said Andrew Stangl, president of KU's SOMA. "It certainly feels really nice that we've been able to inspire somebody to take the initiative and start a new group."
The KU student group found itself in the midst of controversy late last year when its faculty adviser made disparaging comments about Catholics and religious fundamentalists on the group's Internet discussion board. Months after the firestorm, the group is quietly moving on and increasing its membership.
Students at the University of Idaho have created a similar group based on the KU organization. And as in Kansas, they find themselves somewhat in the minority in a conservative state.
"We do stand out somewhat," said Michael Tuttle, a member and the group's webmaster.
Tuttle said that as the Idaho group, with its 15 to 20 members, makes itself known, it has had problems.
"Signs that we've put up to let people know about the group have been ripped down," Tuttle said. "Some other groups just don't like the idea of us not believing what they believe in, not having their superstitions. It's their way to stop people from hearing about us."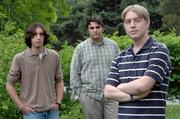 Members of both groups, which aim to advance a nonreligious worldview and to challenge religious dogma and those who advocate it, said their mere presence was important as a way of adding a voice to the many viewpoints.
SOMA makes a point about the existence of atheists and agnostics, said Stephanie Kirmer, a member of the KU SOMA. But the point isn't to convert anyone, she said.
And the group, which has been called a hate group, aims to dispel myths about nonreligious people.
"We don't kill puppies and eat babies and things like that," said Adrien Yeganeh, a graduate student and member of the KU group.
As some turn out for the National Day of Prayer, SOMA members are staying in. They promote events like Darwin Day and the National Day of Reason, a counterpart to the Day of Prayer.
So long as there isn't an immediate call for prayer in schools, the SOMA members are quiet about the Day of Prayer event.
"We don't really give much thought to it," Stangl said.
Copyright 2018 The Lawrence Journal-World. All rights reserved. This material may not be published, broadcast, rewritten or redistributed. We strive to uphold our values for every story published.