The real Shaquina Mosley - not last year's bust - appears to have shown up in the Kansas University women's basketball program.
"In spring workouts, she's been really good," KU coach Bonnie Henrickson said.
Mosley arrived on Mount Oread last season with a bulging portfolio. A 5-foot-6 point guard with uncommon quickness, Mosley had led Central Arizona CC to the junior college national championship.
Later, Mosley was tapped juco player of the year by the Women's Basketball Coaches Assn. Still later, she was anointed preseason newcomer of the year by Big 12 Conference coaches.
But Mosley bombed, earning just three starts and averaging only 2.9 points per game. Henrickson even suspended her for two games for undisclosed reasons.
Now the KU coach sees a more mature Mosley.
"She's been more consistent," Henrickson said. "She wants to get it right, and she struggles when it doesn't, and then it snowballs."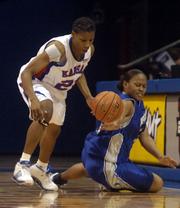 Also impressive in the spring, Henrickson noted, has been Marija Zinic, a 6-2 freshman who evolved into KU's best bench player during the 17-13 season.
"She plays so much harder, and the weight room has helped," Henrickson said of Zinic. "We're working on a turnaround jumper for her. She needs to develop that."
Interestingly, Zinic and Mosley scored their career highs of 17 and 11 points respectively in last season's finale - a 78-76 loss to Ole Miss in the WNIT.
Mosley, Zinic and point guard Ivana Catic figure to be the nucleus of Henrickson's third KU edition. Junior Taylor McIntosh also may be in the picture if she can improve her offensive output.
Otherwise, Henrickson is hoping an impact freshman or two or three will emerge from her crop of seven recruits. Four of those signees will report next month and enroll in summer school.
Among the four is Danielle McCray, a 6-foot forward from Olathe East who is generally regarded as the Jayhawks' top recruit. First, however, McCray has three state Class 6A track championships to defend - the shot put, discus and triple jump.
Also coming in early will be Lindsay Ballweg, a 5-10 guard from Overland Park Aquinas; Rebecca Feickert, a 6-2 forward from Goodrich, N.D.; and Sade Morris, a 6-foot forward from Norman, Okla.
The other three signees - 5-10 guard LaChelda Jacobs (Mansfield, Texas), 5-9 guard Kelly Kohn (Adrian, Mich.) and 6-1 forward Porscha Weddington (Temple, Texas) - will report in July.
¢ Secretary redux: Henrickson, who spent the last three years as secretary of the WBCA, has re-upped for another three-year term. Oklahoma's Sherri Coale is also on the WBCA Board of Directors.
¢ Kemp bypassed: Crystal Kemp, who led the Jayhawks in scoring (18.6) and rebounding (8.4) last season, failed to earn a tryout with a WNBA team, but plans to play overseas after she graduates in December. Erica Hallman (14.2 ppg.) is also hoping for an overseas gig after her December graduation.
¢ Kansas City tourney: KU will play in a four-team WBCA-sponsored tournament next season in Kansas City's Municipal Auditorium. The other teams involved will be Missouri, Iowa and Seton Hall. KU also has signed home-and-home pacts with California and Indiana. The Jayhawks will play host to Cal and travel to Bloomington, Ind., next season, then flip-flop in 2007-08.
¢ Sallard leaves: Sophronia Sallard, a 5-10 freshman from Syracuse, N.Y., who averaged 1.8 points and 1.3 rebounds in 15 games last season, has left the program. Henrickson said Sallard was undecided about where she'd transfer.
Copyright 2018 The Lawrence Journal-World. All rights reserved. This material may not be published, broadcast, rewritten or redistributed. We strive to uphold our values for every story published.