Lawrence and Free State high schools will have a few athletes returning for the final day of the Sunflower League swimming and diving meet today at Knox Natatorium, but not nearly as many as their coaches had anticipated.
"I'd hoped to see more people back for finals," FSHS coach Jama Crady said. "We got a couple of people sitting seventh, which is just kind of a killer. That's actually kind of the worst place to be in, because you know you could have made finals, and now you've got to swim just as fast, if not faster, to keep your place.
"It was a pretty average league meet, so we'll see."
Free State's Whitley Jackson (200 freestyle) and Kelsi Mishler (100 freestyle) found themselves situated one spot out of the championship finals, but LHS had just as many heartaches.
Erin Eifler (500 freestyle) and Kristi Rudman (200 individual medley) are also sitting atop the consolation heats - the only individuals for the Lions in consolations. Rudman's fourth-place finish in the 100 breaststroke is the Lions' only representative in the championship finals.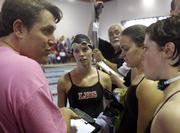 "I was hoping to get a couple of more girls in consolation," LHS coach Ryan Adams said. "I was hoping a couple of girls would be in the finals rather than consolation, but for a lot of girls it was a new meet. It's a safe environment for them that we've seen before, but it was a lot louder and really packed, and you get a little nervous and stuff.
"So I think we're going to be able to come back (today), and I think now that we have a little experience under our belt, we're going to do better."
The Firebirds, on the other hand, have seven events in which they will have at least one representative competing in the championship heat. Two of the events will be the 200 and 400 freestyle relays. Mishler, Sarah Clark, Ashley Robinson and Becca Glass make both of those relay teams.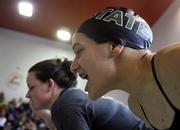 Glass and Robinson also had some success in their individual events. Robinson was top qualifier in the 200 freestyle and 500 free, and Glass led qualifying in the 100 fly and was fourth in the 500 free.
"In the 100 fly, I was really, really proud of myself because I totally wanted to beat the girl that was faster than me, and I did," Glass said. "So that made me really happy, and that's probably the best thing that could have happened today."
The Firebirds' 400 free relay team built momentum for going into today's finals. An aggressive finish by Robinson clinched a first-place time of 3:50.30 in that event.
"I'm probably going to take some heat for that with my seniors by making them stay," Crady said. "But it's going to come down to the last relay, and we have more of a shot with the 400 free relay than we do with the 200 medley relay, and they know that, and I know that. It's just something we've got to do."
The prelims for the diving events will be held at 9 a.m. today, with the finals coinciding with the swimming finals that begin at 1 p.m.
Copyright 2018 The Lawrence Journal-World. All rights reserved. This material may not be published, broadcast, rewritten or redistributed. We strive to uphold our values for every story published.