Tony Craft found Jesus at a biker rally.
Amid a sea of leather and exhaust fumes, he met motorcyclists who once were on opposite sides of life - cops and robbers, for instance, or members of rival motorcycle gangs - who had come together for a common cause.
And that, it turned out, was the proof he needed that God exists.
"Here were people who hated each other, or even wanted to kill each other," Craft said. "But they were working together for Christ. Human nature is people don't do that. I needed some tangible proof of God."
Now 12 years later, Craft is part of a group of Lawrence bikers that calls itself Heaven's Angels, a chapter of the Christian Motorcyclists Assn. that spreads news of the Bible from the back of bikes.
The local chapter, in its 10th year, has about 25 members, men and women ranging in age from their teens to their 60s. They represent a variety of Lawrence churches.
Motorcycle ownership isn't a requirement. Professing a love for Christ is.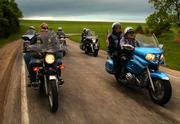 "Our goal," local chapter founder Ralph Bullock says, "is to witness to the secular world."
By that, he means both the world in general and specifically the world of bikers, a world with a sometimes-seedy reputation to outsiders.
No brow-beating
When the Heaven's Angels go to secular motorcycle rallies, they try to witness their love of God to other bikers. They don't drink beer, and they try to lead by example, volunteering to help fix a bike or provide security.
They often spread their message in small ways - by passing out cold water with a "plan for salvation" printed on the side of the Dixie cup, handing out Bibles or leaving a card professing their faith with their restaurant tip.
"We don't try to brow-beat people, or beat them up with the Bible," said local chapter president Russ Beeson. "Some people are more effective doing this than teaching a Sunday school class."
The CMA, with 150,000 members in 22 countries, is the largest Christian motorcycle group in the world.
"We're larger than the three largest outlaw groups put together," Beeson says.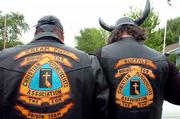 The national CMA group does mission projects in foreign countries, often distributing motorcycles to pastors who need to travel between multiple congregations.
This weekend, the CMA will hold a nationwide Run for the Son, a fundraiser for three missions: the Jesus Film Project, which screens a movie about Christ to people around the world; Open Doors, a Bible distribution group; and Missionary Ventures International, which does various mission projects around the world.
Locally, bikers will meet at 8 a.m. Saturday at the Slow Ride Roadhouse, 1350 N. Third St., and ride to the Wyandotte County Fairgrounds for food, music and fun.
Clean fun
Ride along
What: Run for the Son, a fundraiser for the Christian Motorcyclists' Assn. When: 8 a.m. Saturday Where: Starts at Slow Ride Roadhouse, 1350 N. Third St., and continues on a 100-mile ride that ends at Wyandotte County Fairgrounds. Cost: The event is open to the public, but a $10 donation is required. The money goes to mission organizations supported by the CMA. Information: Call Russ Beeson at 312-4110.
Heaven's Angels get together on the third Tuesday of each month at the Chartroose Caboose, 1606 W. 23rd St., to talk about their mission work.
Not that the bikers are all business. They love to go on food runs, and not just for biker-hearty ribs or steak and potatoes.
They have a particular fondness for ice cream.
"There's something," Craft said, "about seeing this scary guy with a beard down to here" - he motions to his midstomach - "and he wants a root beer float. Then, it's like he rode up on a tricycle."
Beeson says all bikers - Christians and non-Christians - suffer from stereotypes. He says the Heaven's Angels are doing their part to have good, clean fun on the back of a motorcycle.
"They're not having gang fights out in the street. Nobody's raping or pillaging," he said. "We want to show (secular bikers) we can have as much fun as they do."
Bullock quickly added, "And we remember it the next morning."
Copyright 2017 The Lawrence Journal-World. All rights reserved. This material may not be published, broadcast, rewritten or redistributed. We strive to uphold our values for every story published.