The 3.71 inches of rain that fell on the Lawrence area in the past week were welcomed more than cursed after a relatively dry April.
"If we'd have gone another week without rain, it'd have been pretty desperate," Douglas County extension agent Bill Wood said. "Anybody growing crops right now is smiling that we got this rain. It was looking pretty serious."
Most farmers left their soggy fields of corn this week to perform maintenance on their tractors and do other things, Wood said. But the week off likely won't hurt many people, as he estimated about 85 percent of corn in the county already has been planted.
In Leavenworth County, many farmers also were kept out of their fields this week, with only about 50 percent to 60 percent of their corn crops planted, Leavenworth County extension agent Leon Stites said.
"We kind of went from famine to feast here. I wish we could level it out a little bit," he said of the rain.
Rainfall in the past week, including 0.85 inches Wednesday morning, has helped bring Lawrence's year-to-date total to 9.16 inches, which is 0.78 inches behind the annual average for this time of year, 6News meteorologist Jennifer Schack said.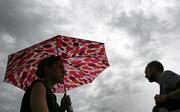 But the dry weeks during April likely will keep the area out of danger from flash flooding for now, Schack said.
Ted Boyle, president of the North Lawrence Improvement Assn., said the neighborhood experienced no flooding problems in the past week.
Stites said he had heard of no reports of Stranger Creek flooding anywhere in Leavenworth County.
Park rangers at Perry and Clinton lakes have begun releasing more water after several weeks of "low-flow" releases to keep the water at a constant level during the relatively dry April.
Winter Weather
Winter weather information
Neither lake saw extremely high levels of water after the rain. On Thursday, Clinton Lake was sitting two-tenths of an inch above its target. Perry Lake is about three feet above its conservation pool and is holding some water for now to help area fisheries, said Joe Lopez, a park ranger for the U.S. Army Corps of Engineers at Perry Lake.
"The pool is just about where we want it to be this time of year," said Dave Rhoades, park manager at Clinton Lake for the U.S. Army Corps of Engineers.
Copyright 2018 The Lawrence Journal-World. All rights reserved. This material may not be published, broadcast, rewritten or redistributed. We strive to uphold our values for every story published.