It's a mystery.
"I don't know where that fuel came from," said Doug Wald, vice president at Presto Convenience Store's corporate office in Andover. "I don't know what to think."
City officials on Tuesday blamed a fuel-tank leak at the company's store at 602 W. Ninth St. for the fire Sunday that destroyed a five-apartment house at 838 La.
But pressure tests have since shown the store's three underground tanks and their connecting lines are "tight," Wald said. "They're not leaking."
State officials, too, are stumped - even though they investigated an "inventory loss" from the store's tanks over the winter.
"Since the tests did come back positive, we're looking at three things - that there's a leak, but it's undetectable; that there's an undetectable leak in another tank on another property; that there was a 'fuel pocket' caused by a previous spill that, for whatever reason, hadn't migrated until this event," said Sharon Watson, a spokeswoman for the Kansas Department of Health and Environment.
According to fire investigators, heavy rains are suspected of triggering groundwater flows that carried the gasoline from the tanks to the house, where the fumes entered the basement and were ignited by a sump-pump spark or the pilot light on a hot-water heater or furnace.
Photo Gallery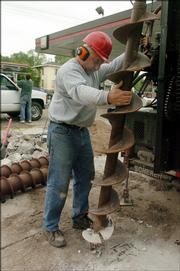 838 Louisiana house fire
Wald said he doesn't dispute that gasoline caused the fire. But the source of gasoline, he said, is unclear.
"We've been monitoring our tanks every hour since we stopped selling gas Sunday morning," he said, "and we've not lost any inventory."
Discrepancies
KDHE on Tuesday reported that 800 gallons of "a mixture of water and fuel" had been pumped from a trench between the store and Louisiana Street, about a quarter of it gasoline.
Since Tuesday, crews have filled three 500-gallon tanks with the mixture pumped from the site.
Presto has had problems before. Watson said records show that there was an "overspill event" in the mid-1990s.
And Watson and Wald said the store had reported an "inventory loss" in February, prompting an internal audit and a KDHE review in March.
"There was a 2,300-gallon discrepancy," Watson said.
But the discrepancy, she said, did not appear to be caused by a spill or a leak.
"It was more a question of accounting or how the gauges were read," Watson said. "The system they use is not electronic, so there's a lot of room for error."
Wald agreed: "Everybody came back and said it was it was due to operational error or an error in accounting procedures. KDHE gave us a clean bill of health, so I don't know what to think. It's a heck of a mystery, I'll say that."
Records show the store's tanks were installed in 1978. Four convenience stores - Presto, Jayhawk Food Mart, Diamond Shamrock and Kwik Shop - sell gasoline within two blocks of the intersection of Ninth and Louisiana streets.
Reopening soon
A Wichita company began drilling four monitoring wells on Presto's property Wednesday.
"KDHE wanted us to do that and we agreed," Wald said. "We want this taken care of, we want to do what's right."
The store remained closed Wednesday evening.
"They be allowed to reopen as soon as the inspection tubes are installed," Watson said.
City crews were called to four houses Tuesday to check for fumes. None were found.
KDHE and city crews continue to monitor the neighborhood's sanitary and storm water systems for gasoline vapors. So far, none have been detected.
"We have determined the area to be safe," Bradford said.
If residents smell gasoline, he said, they should call 911.
Also, residents may call the fire department, 843-0250, to ask to have their homes checked for fumes.
Copyright 2017 The Lawrence Journal-World. All rights reserved. This material may not be published, broadcast, rewritten or redistributed. We strive to uphold our values for every story published.