A fire early Sunday in the historic Old West Lawrence neighborhood destroyed a home and scattered the lives of those living there.
The blaze began just minutes before 3 a.m. when residents living on the lower floors of the five-unit house at 838 La. reported smoke creeping from the basement.
When other residents arrived at their home within the hour, the house was gone.
"It's a surreal experience," said Glenn Baughman, who arrived about 4 a.m. to his upstairs apartment engulfed in flames. "You can't really go crazy. You can't really go anything."
Lawrence-Douglas County Fire Chief Mark Bradford said 28 firefighters were needed to extinguish the fire, with at least two being blown back when fumes leaking from the basement exploded near the front of the house.
"It caught them off guard," Bradford said of the explosion.
No residents or firefighters were injured in the fire. But Bradford said the exploding fumes and the strong scent of gasoline streaming from the basement caused serious concern.
Photo Gallery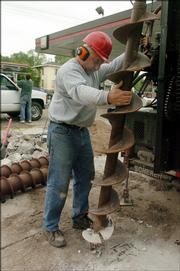 838 Louisiana house fire
Hazardous materials teams from Lawrence and Olathe spent hours at the home Sunday draining water that had accumulated in the basement.
"We wanted to make sure we were disposing of that water correctly," Bradford said.
The investigation into the cause of the fire will start in earnest today, he said.
As they sorted through the blackened wood and rubble that filled the house, investigators couldn't put a price on the damage. It was difficult to tell what belongings were actually in the home, save a scorched couch that sat smoldering on the sidewalk outside.
"Obviously, it's totally destroyed," Bradford said.
But as the sun broke through for the first time in days Sunday, life seemed to get better for one of the home's tenants.
Jim Luhning, a Pizza Hut delivery driver who lived in one of the lower-level apartments, got home from a birthday party about 3 a.m., only to sit for the next hour watching everything he owned burn.
His clothes. Long-owned family photographs. The money he had diligently stashed away so he could attend his son's wedding in Washington state next month.
"I guess it was just my turn," Luhning said.
But suddenly, Red Cross officials arrived with help - for Luhning and all of the tenants.
They handed out clothing and food vouchers, and gave residents who had nowhere to go free hotel stays for a few nights.
838 Louisiana
Luhning didn't need the hotel stay - he has plenty of friends in Lawrence. The clothing and food will help, certainly. But nothing could replace the hundreds of dollars he kept saved in his room.
Nothing could replace seeing his son get married.
But Sunday afternoon, a friend told firefighters about the money. It didn't seem likely it would still be there, but they checked anyway.
When Luhning arrived back at the house, a firefighter walked to him, money in hand.
Luhning and fire officials wrung the money out, and water poured from it. But it was all there, unfazed by the flames.
And for the first time since early Sunday, Luhning's eyes lit up bright. He hugged his friends and thanked the firefighters, relieved that he wouldn't have to ask his boy for the money to come see him.
"I didn't want him to have to pay for my ticket," he said.
Copyright 2018 The Lawrence Journal-World. All rights reserved. This material may not be published, broadcast, rewritten or redistributed. We strive to uphold our values for every story published.