Chicago — A day after more than 1 million immigrants and supporters skipped work to march in rallies across the nation, some advocates say the mixed messages surrounding "A Day Without Immigrants" show a need for a unified front and the movement's own Cesar Chavez.
"We need to take this critical mass and organize it. Marching is not enough," said Armando Navarro, coordinator of a Southern California umbrella organization that helped plan Monday's march and boycott. "We need to harness this power."
An estimated 400,000 people marched in both Chicago and Los Angeles, but fewer than 10,000 turned out in cities including Dallas, Atlanta and Phoenix, which all have large Hispanic populations.
With so many organizers pushing their own plans for the May 1 rallies and no single group at the forefront, there wasn't a unifying plan. And there were conflicting signals from various leaders questioning whether a boycott that disrupted the economy would do more harm than good.
Photo Gallery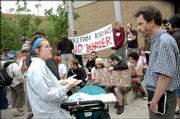 Rallies
Immigration-reform leaders are torn over how best to keep the momentum going. The grass-roots flavor of the recent demonstrations has generated excitement and publicity, but empowering an umbrella organization or dynamic figurehead could galvanize the effort the way Chavez did for farm workers and Martin Luther King Jr. did for the civil rights movement.
"It's always good to have a figure that melds it together," said Eliseo Medina, executive vice president of the Service Employees International Union, a major organizer and supporter of rallies Monday.
"But right now, we are seeing hundreds of leaders coming together. Many of them are people nobody had ever heard of," Medina said. "This organic organization will outlive any one charismatic figure."
Marcelo Suarez-Orozco, director of immigration studies at New York University, said he believes any consolidation of local groups won't happen until leaders see what comes out of Congress. A bill that passed the House would make illegal immigrants vulnerable to felony charges, while a Senate bill would allow immigrants in the U.S. longer than five years to apply for citizenship.
"Clearly the ball now is in the court of the political class," Suarez-Orozco said. "But in the long run, the elephant in the room is how (the marches) will be translated into political muscle."
Copyright 2017 The Associated Press. All rights reserved. This material may not be published, broadcast, rewritten or redistributed. We strive to uphold our values for every story published.